The Huge Celebrity Nude Photo Leak May Have Contained Child Pornography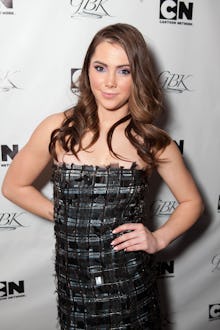 Getty Images
The news: The gigantic treasure trove of stolen celebrity nudes circulating on Reddit and other boards this week contains child pornography.
The Daily Dot's Rob Price reports that the ongoing mass release of nude photos and videos, dubbed #CelebGate or "The Fappening" on Reddit, includes at least two separate photosets of underage women:
American gymnast McKayla Maroney was allegedly a minor when the photos in question were taken. Additionally, Reddit users have been sharing photos of the actress Liz Lee, whose photos were not part of the initial leaks, but were taken when she was 16 by her boyfriend — who is now a convicted sex offender.
Reddit's r/TheFappening is one of the few well-known places on the web that allows the photos to spread, in an apparent violation of ethics and its own ethos of privacy. Imgur, Twitter and other services are deleting the pornography as it pops up, probably because posting it is against the law. Apple concluded the pictures were taken from accounts whose passwords were compromised, making whoever perpetrated the leak an identity thief. Finally, there's a general consensus that this was a messed-up, misogynistic thing to do. So most sites have avoided even linking to where the photos could be found.
But Reddit has been bustling with activity, and because some of the photos, predictably, turned out to be underage, people sharing them are breaking federal law. Price reports that r/TheFappening's moderators posted a warning to stop spreading the images in question. It's remarkably apologetic to the Redditors sharing the stolen porn for their momentary inconvenience:
What next: Redditors will be quick to claim that they weren't knowingly sharing child porn, but that doesn't mean it wasn't intentional. The original theft of the data was malicious, and the photos were deliberately passed on to the entire Internet. Redditors and others irresponsibly spreading the links or copying the photos are propagating child porn, plain and simple. Since many of the photos don't come with context or time stamps, it's hard to know whether other images are problematic as well.
As Price highlights, users over at r/TheFappening quickly traded tips for hiding evidence they had the photos and instructions for wiping them from their hard drives. They also joked about it — all without intervention from Reddit admins.
If taking pleasure in the mass violation of women's privacy wasn't distasteful enough, Redditors have been aiding and abetting a crime. Not only is this a big indictment of Reddit's collective social responsibility, it's a reminder that "The Fappening" has real victims, and its perpetrators couldn't care less.