There's a Massive Environmental Crisis Threatening Mexico's Water Supply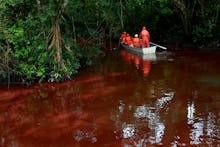 AP
The news: Tropical Storm Dolly's heavy rains are moving inland from Mexico's Gulf Coast, bringing with them fear that flooding will worsen the affect of a recent spate of oil and chemical spills.
Last week, Mexico's latest oil spill, in Tierra Blanca, Veracruz, contaminated a mile-long stretch of the Hondo River and turned its waters blood red. The spill was initially contained, but heavy rain caused containment ponds to overflow.
For authorities, the primary concern is how the spill affects the public and the environment. "The danger is that if it rains more, with the tropical weather system out there, it could overflow again if they don't get it gathered up quickly, and reach the lake," Dalos Rodriguez Vargas, the Veracruz state environmental prosecutor, told the Associated Press.
"They are working with all possible speed to get it contained," he added. 
Earlier last month, there was a massive, 12-day mining spill in Sonora and a 4,000-barrel oil spill in the San Juan River. 
These spills have been too common. Pemex, the state oil company, has stated that the Hondo River leak came from a bungled attempt to illegally tap into the oil pipeline — most probably by organized criminal gangs. The earlier San Juan oil spill was also reportedly caused by criminal theft, raising concern that Pemex is not efficiently protecting its infrastructure and, in turn, the environment.
According to VICE, "between 2000 and 2013, oil and gas theft from Pemex increased by over 1,500%. It is now thought that upwards of 10,000 barrels are stolen in Mexico each day."
VICE also reported on the death of Octavio Rojas Hernández, a journalist from the Oaxacan town of Cosolapa, who was murdered in August after saying that the local police chief was "believed to be the alleged leader of this well-organized criminal cell dedicated to fuel theft."
"We and his family, and even sources at the city hall, believe that [Rojas was killed] because of his articles," Miguel Ángel Contreras, the news director of El Buen Tono, told VICE.
This is not just an environmental issue. While the pollutants can be contained and removed in a couple of weeks, there is an underlying criminal component to these disasters that must be answered in order to prevent them from happening again.
This is not just about a negligent company hurting the public; it's about criminal organizations — with possible ties to local officials — endangering the public for personal gain. And until the Mexican government cracks down on this, the country's rivers and lakes may not be safe.