The Two New Kings of Hip-Hop Just Released an Amazing Song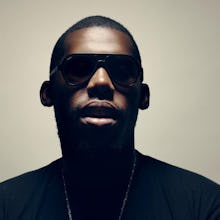 When hip-hop's most sought-after producer, Flying Lotus, and its most dominant rapper, Kendrick Lamar, join forces, it's safe to say the game has officially changed.
Released late Tuesday night through a Power 106 radio broadcast, "Never Catch Me" is absolutely incredible. The beat is dense and jazzy — like most FlyLo Beats — and Lamar rips a whirlwind verse to match.
This is a pivotal moment for the year in music. We had an uneventful spring and a poppy summer led by Iggy Azalea and Ariana Grande, but now is when the year's real artists reveal themselves.
Lamar and Flying Lotus both have solo albums due by the end of the year. Flying Lotus' will be a concept album about death titled You're Dead! Judging from "Never Catch Me," a previous leak — a song featuring legendary jazz pianist Herbie Hancock and Thundercat — the album's custom track-by-track artwork and its recently released promo video, there should be no doubt the album will be absolutely killer.
Lamar's album — his first since the seminal good kid, m.A.A.d city, will undoubtedly be a major musical event. He has a lot to live up to, seeing as his major label debut was essentially perfect. His new digs will likely sound a lot like "Never Catch Me;" Flying Lotus has reportedly sent a lot of beats over to the TDE camp for the record.
"Kendrick and me, man, we had a special vibe between our chemistry," Flying Lotus recently told Rolling Stone. "He came through the crib and recorded it and it was great. The funny part is, though, that he wanted to keep that shit for his album. When I first sent him the track, he was trying to convince me to give it to him. Like, 'Nah, man, I need that!'"
You're Dead! is expected drop on Oct. 7. 
h/t Pitchfork
Updated 9/13/2014 - This post has been updated with a clean version of the song.