A Mother Took Stunning Photos of Her Disabled Daughter to Show Her Beauty Knows No Bounds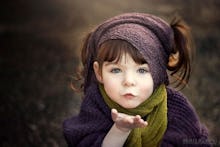 New Zealand-based photographer Holly Spring has stumbled upon a foolproof formula for capturing beauty: whimsical scenery, a realistic blend of photography and digital art, and her remarkable, one-handed daughter, Violet.
Spring recently shot a striking portrait series of 4-year-old Violet, who suffered early in life with Hirschsprung's Disease and is missing her left hand. The series has rightfully gained recognition for both its composition — which earned Spring the NZIPP/Epson Iris Portrait Creative Photographer of the Year award in 2014 — and its positive message. While Violet may not be fully able-bodied, Spring said she wants her to understand her limitless potential. 
"For both of us, it was first and foremost a way for us to bond," Spring told Mic. "For Violet, I hope that she sees herself open to endless possibilities in the future."
The photographs are stunning, each set amid local, bucolic — and sometimes fanciful — scenery and showcasing Violet's lively personality. "These locations are places that we have spent as a family around the country, places that evoke memories of wonderful times," she said.  
It's not just photographers and art critics who appreciate the portraits; Violet is a big fan, too. "She loves them," Spring said. "Just like the stories we read her at night, these are a way to enrich her imagination. She sees the beauty in everything around her. Violet loves her 'Lament of the Sea,' where she is coming out of the waves. I think she likes it because she is actually 'singing' in the shot, and the color palette is so soft and pretty." 
Pretty, indeed — and quietly, hauntingly powerful.
(Photographer's Note: the last image of the Giraffe showing my daughter with the wrong limb difference is intentional for creative purposes and continuity of light and narrative.)
All images courtesy of Holly Spring