This Catchy Pop Song Is Actually Fighting Ebola in West Africa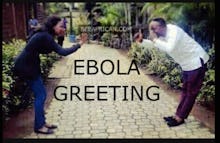 Youtube
The news: Released over the summer, a surprisingly catchy new song is hitting the West African airwaves with an important message to spread: The Ebola virus is here and ravaging the region, ensnaring five countries in its deadliest mass outbreak ever.
"Ebola in Town" by 2Kings' Shadow, D-12 and Kuzzy features Ebola-themed lyrics and warns people against poor hygiene, eating bushmeat and physical contact where infections have been confirmed.
Here's a sample verse about bushmeat: "If you like the monkey, don't eat the meat / If you like the baboon, I said don't eat the meat / If you like the bat-o, don't eat the meat."
Ogilvy PR marketer Jennifer Chu told Voice of America News that the song was an excellent example of the rare campaign that is both informative and popular. "It is very catchy. I cannot get it out of my head now," she said. "Somehow, magically it is a really catchy song with a good public health message." 
Chu added that while the song presented less information than other methods of communication, like fact sheets or banners, raising awareness requires using a variety of strategies to reach different people.
"Since everybody wants to dance these days, they will first dance to the beat," musician Samuel "Shadow" Morgan told VOA. "And the next thing is, they will learn the chorus. From the chorus, you start going into the verses and what the song is actually about."
The background: Since emerging earlier this year, a rampant strain of Ebola has threatened Liberia, Sierra Leone and Guinea, with additional infections reported in Nigeria and Senegal. Out of more than 3,000 reported infections, the WHO estimates around 1,550 people have died. Health authorities warn that the outbreak could spread to as many as 20,000 people, thanks to a lack of resources and an inability to contain the disease. Earlier this week, Centers for Disease Control and Prevention director Tom Frieden said that the outbreak was "spiraling out of control" and urged greater international action to confront Ebola before it becomes endemic throughout West Africa.