Ukraine and Russia Just Announced an Extremely Confusing 'Cease-Fire'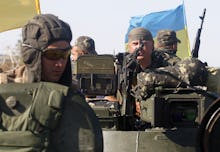 The good news is that Ukraine announced a cease-fire plan with Russia to bring an end to fighting in the eastern part of the country. The bad news? Russia says a cease-fire can't be reached, because it's not fighting Ukraine in the first place.
If that sounds confusing, that's because it is. While Ukrainian President Petro Poroshenko's office released a statement saying the two countries had agreed to a "lasting cease-fire," Kremlin spokesman Dmitri Peskov responded that "Russia cannot physically agree on a cease-fire, as it is not a side in the conflict."
The key thing to remember here is that Ukraine says — and most of the world believes — that Russia is sending soldiers, tanks and artillery into Ukraine to help separatists in their five-month-long rebellion effort. Russia has categorically denied these claims, conceding that soldiers might be in Ukraine, but only on their own accord.
So what's the deal? Poroshenko and Russian President Vladimir Putin did speak on the phone. But Putin said those talks didn't result in a cease-fire agreement, merely a set of steps that could produce a cease-fire.
That may seem like a small semantic difference, but the implications loom large. If Poroshenko did agree to a set of terms Putin laid out, it could create a clear path to ending the fighting. Of course, it's hard to take anything Putin says at face value at this point, especially given his support for the rebels' cause, both in speech and in action.
Putin's terms, per the New York Times, were that Ukraine move troops and artillery out of range of separatist-controlled cities, and in exchange separatist soldiers would end all offensive attacks. An agreement would include a prisoner exchange and international humanitarian aid for those in the affected areas.
Moving forward: The situation in Ukraine will be a major issue at this week's NATO summit, which President Obama will be attending. Putin said he expects a peace agreement by Friday, the second day of that summit, according to the Times.
Still, there's plenty of skepticism.
Russia also announced plans for huge military exercises, clearly meant to send a message to opponents that seem to run counter to all this peace talk.
On the ground in Ukraine, the fighting continues. "As long as Ukrainian forces are on the territory of the Donetsk People's Republic there can be no cease-fire," a rebel official told the Associated Press.
h/t The Wire