Israel Presents Damning Evidence of Hamas' Tactics During the Gaza War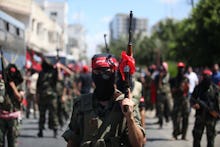 Getty Images
The news: On Wednesday, Israel provided "its most detailed assessment yet" of its military actions during the Gaza war, reports Reuters. The report includes photographs intricately documenting how civilian sites such as schools were utilized by Hamas operatives to store and launch rockets.
Writes Reuters:
Among the evidence laid out by a senior military officer were details of the ranges and number of rockets fired by Hamas and Islamic Jihad, photographs showing how rocket launchers were hidden in graveyards and a school playground, and how tunnels were used to carry out and escape from the site of attacks.
The Israel Defense Forces (IDF) also released its formal assessments of the casualties incurred during the massive invasion: 2,127 Palestinian deaths, of which 706 were civilians, 616 were militants and another 805 listed as "unknown" — a group Israel says is likely to be 55% to 60% civilian. The IDF claims to have additionally destroyed 32 tunnels into Israel, as well as thousands of rockets. 
In the report, Israeli officials say that operation's extensive list of eliminated targets, as well as the photographic evidence that Hamas was utilizing schools, provides further justification for the operation's heavy-handed tactics and proves Palestinian militants were hiding among the civilian population.
The IDF's tactics don't appear to have successfully rooted out Hamas. In fact, the Washington Post's Adam Taylor reports that the massive destruction caused by the 50-day invasion has resulted in a skyrocketing support for Hamas, with 61% of Palestinians now expressing electoral support for the group's leader, Ismail Haniyeh, over current President Mahmoud Abbas. 
That's the first time in eight years Hamas has polled in the majority.
What it means: Hamas has a well-documented history of storing and deploying military equipment in and around civilian facilities, so this latest report may not be any sort of revelation. It does, however, reinforce the problems civilians face living under Hamas rule. 
Finally, the military operation in the Gaza Strip killed just a few hundred of the more than 16,000 Hamas operatives in the area, according to Israel's own estimates. The destruction of tunnels and equipment and the assassination of key Hamas leaders may have been a serious setback, but the organization has survived the invasion and has proven capable of bouncing back.
Why you should care: While most Israelis and Palestinians still support what Gallup called the "peace process," these recent developments are making it more and more likely that a deal will never be reached. Israeli Prime Minister Benjamin Netanyahu remains opposed to negotiating with any unity government that includes Hamas, while Palestinians furious over the Gaza invasion are more likely to side with the militants.
Since a peace deal is unlikely right now, Hamas may continue to stockpile weapons in civilian facilities, and Israel may keep bombing them.