'The Simpsons' Marathon's Success Proves Young People Haven't Given Up on Television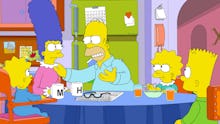 The Simpsons marathon on FXX was a bit of an experiment: a beloved series with 25 seasons under its belt and a fledgling network struggling to find its footing uniting in a 12-day, 552-episode, full-series marathon. The results not only far exceeded ratings expectations, they also proved that contrary to popular belief, there is an audience interested in viewing shows live and linearly, especially when mere TV shows turn into full television events. And, spoiler alert, that audience can even be made up of our traditionally hard-to-pin-down generation. 
The pervasive theory is that watching live TV is an old-school game. Why watch and suffer through ads when you can stream, binge, DVR or wait a few days and get your shows on demand? This bevy of options has changed how TV is both viewed and conceptualized. In 2012, the New York Times hypothesized that DVR recordings could be to blame for decreased ratings "across the board," and in 2013 they confirmed their findings, writing that "most directional arrows are pointing toward on-demand's dominance in the future, thanks to services like Netflix, Amazon, Hulu or the DVR." 
According to the New York Times, The Simpsons marathon that ended on Labor Day pulled in ratings three times higher than expected, moving FXX from 49th place among cable networks for viewers ages 18-49 to third place. An exceptional feat and one that replicates the way the series, when it first aired, put its home network FOX on the map. The median age of marathon viewers was the highly coveted, for advertisement purposes, 28-year-old. Average prime-time ratings (for episodes that are reruns, mind you) hit 1.32 million, putting old Simpsons episodes well above new episodes of cult shows like Girls (the finale had 670,000 viewers) and not-too-far-behind critical sensations like True Detective (the finale saw 3.5 million viewers). And all of this was happening live, in real time, when the episodes were scheduled to air. 
The success of the marathon proves an ever-evolving theory that to keep audiences watching linear live television, viewing the show must become an event that engages viewers on more than just the viewing level. It must become a cultural and social media phenomenon not to be missed. Something viral and tinged with the scary possibility of FOMO. 
Spectacles (and ratings wins) like Sharknado are great examples of this theory put into practice -- audiences tuned in in real time, largely because they didn't want to miss out. As the Washington Post put it, "Sharknado, created a form of online togetherness that is frequently seen as a way to rescue the experience of television from its perceived inertia as a business model, by relegating content to a means of inviting chatter and reaction." There's a heavy dollop of conversation and connectivity involved in today's TV success. 
Shows like ABC Family's Pretty Little Liars also successfully leverage FOMO and audience engagement on social media by using real-time hashtags to get episodes trending. By virtue of being the first full-series Simpsons marathon of such epic proportions, the FXX plan became an event too -- one with the requisite hashtags, user-guides and challenges for how long someone could physically sit through watching their favorite animated family.
The FXX plan now is to capitalize on the series's pull. The network has packed its lineup with Simpsons episodes and is even creating an online "Simpsons World" where fans can access episodes, scripts, clips and more. 
What this success means for the future of television is less certain. There is a very potent ratings cocktail in the combination of quality cult-followed shows and FOMO turning into ratings wins, and networks are cluing into that. Perhaps the future of linear television isn't in the invention of new, can't-miss series, but rather in reviewing the classics -- bring on the Friends marathon, Seinfeld too. 
Our generation is ready to watch. But if we're going to watch according to the traditional systems of a television schedule, there better be a really compelling reason. FOMO might just be it.