Joe Biden on the Islamic State: "We Will Follow Them to the Gates of Hell"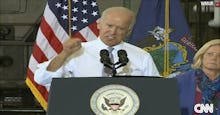 Vice President Joe Biden delivered the Obama administration's strongest rebuke of the Islamic State (IS) yet, calling the group "barbarians" and saying the U.S. would follow them "to the gates of hell." His speech Wednesday marked a significant sharpening of the administration's rhetoric in response to the crisis in Iraq and Syria.
Biden's comments come one day after a new video showed the execution of journalist Steven Sotloff at the hands of IS. The video of Sotloff's death came two weeks after another American journalist, James Foley, was beheaded by the group.
"If they think the American people will be intimidated, they don't know us very well," Biden said. He went on to cite American resilience after 9/11 and the Boston marathon bombings.
"When people harm Americans, we don't retreat. We don't forget. We take care of those who are grieving, and when that's finished, they should know — we will follow them to the gates of hell until they are brought to justice. Because hell is where they will reside."
Biden was speaking at an event in Portsmouth, N.H., when he delivered his fiery remarks. Watch his speech here:
Earlier Wednesday, President Obama likewise made his strongest statement to date, denouncing IS and promising international action against the militant group.
"Our objective is clear, and that is: Degrade and destroy ISIL so that it's no longer a threat, not just to Iraq but also to the region and to the United States," he said in a speech after the U.S. confirmed the authenticity of Sotloff's murder. "Whatever these murderers think they will achieve by killing innocent Americans like Steven, they have already failed."
h/t Business Insider