Michael Sam Just Officially Signed With the NFL's Dallas Cowboys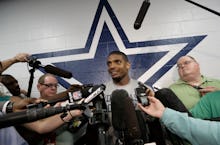 AP
The news: The Dallas Cowboys have officially signed the NFL's first openly gay player, Michael Sam, and announced that he has been added to the practice squad for the upcoming 2014 season. After being dropped by the St. Louis Rams for a middling preseason performance, Sam once again has a place to call home in the NFL.
Though Sam will only be a member of the Cowboys practice squad to start, unlike college football, these squads are compact and consist of just 10 players. They're not allowed to play in normal games like those on the full roster, but often can work their way into the full lineup. If Sam plays well on the practice squad, ProFootballTalk's Michael David Smith writes, he may find himself needed on the team's much-maligned defense. More or less, this means Sam still has a reasonably good shot at a career in the NFL.
The background: As the NFL's first openly gay player, Sam has helped break barriers in the sport. His release from the Rams unfortunately left him with just a few potential teams who were interested in him.
Mashable's Sam Laird says the Cowboys are the "perfect landing spot" cfor Sam — "If Sam is going to work his way from a practice squad to a regular 53-man roster, Dallas is as good a place as any to do so. Their defensive line is full of holes" — even if it's playing in a state Laird describes as "dudes sure as hell don't kiss other dudes."
The Cowboys themselves were quick to downplay questions about Sam's sexuality. 
"This is about football," head coach Jason Garrett said. "We evaluated him as a football player and think he can help us as a football player. We want to see what he can do, but our attention and focus is on football. It's on getting ready for the 49ers. That's the culture that we have around here. That's the culture that we'll continue to have.
"We're bringing a player in we wanted to see on the practice field and got nothing but good reports about him from our people and the people in St. Louis. We just want to give him a chance to come in and see if he can help our football team."
But the Cowboys, under owner Jerry Jones, are well known for publicity-seeking behavior, and it's clear they intended to draw attention to Sam's unique status within the NFL. In exchange for a practice squad slot, the team may be banking on Sam's celebrity to make the pick-up worth it.
Why you should care: You won't be seeing Sam in any games this season, but he may still have a promising career ahead in the NFL if he proves himself on the practice squad. Boston.com's Joe Allen-Black said this is a big victory for the gay community, who can celebrate having at least one team willing to welcome an openly gay player. It's also probably a major relief for Sam, who can keep playing football for at least a full season — even if, for now, it's mostly in the mornings without a cheering crowd.