Louisiana Just Threw a Wrench in the Fight for Marriage Equality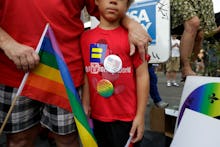 The string of court victories for gay marriage is at an end, and we have a federal judge in Louisiana to thank.
The Washington Post reported that, on Wednesday, Judge Martin L.C. Feldman upheld the state's ban on gay marriage, writing, "The court is persuaded that a meaning of what is marriage that has endured in history for thousands of years, and prevails in a majority of states today, is not universally irrational on the constitutional grid."
It's a decision that goes against 21 other consecutive federal rulings against banning gay marriage, a previously unbroken streak since the Supreme Court struck down the Defense of Marriage Act in 2013. Feldman clearly had those other decisions on his mind, but responded with a resounding ¯\_(?)_/¯.
"It would no doubt be celebrated to be in the company of the near-unanimity of the many other federal courts that have spoken to this pressing issue, if this court were confident in the belief that those cases provide a correct guide," he wrote.
The reaction: The decision was quickly met with derision from those in favor of marriage equality. Ian Millhiser, a constitutional policy analyst at the Center for American Progress, wrote that "political operatives seeking to cast aspersions on Feldman's approach to gay rights will find a lot to work with in his opinion," noting that Feldman compares gay marriage to incest and polygamy.
"Today a federal district court put up a roadblock on a path constructed by twenty-one federal court rulings over the last year." Human Rights Campaign legal director Sarah Warbelow said in a statement. "We firmly believe that justice will ultimately be done."
What's next: The case will likely end up being appealed, though both sides would like to see the gay marriage question end up in the Supreme Court.
It's a blow for equal rights, though certainly not a crippling one — remember, losing only one out of 22 federal cases on the matter over the past year can still be heartening for the movement. Even Feldman acknowledges this in his decision, writing, "Clearly, many other courts will have an opportunity to take up the issue of same-sex marriage; courts of appeals and, at some point, the U.S. Supreme Court. The decision of this court is but one studied decision among many."
But for same-sex couples in Louisiana, it's still a harsh reminder that there are many who don't see a legal necessity to treat them equally. Twenty-one straight wins was a good run, but the country (and its courts) aren't there yet.