Scientists Show People Who Love Fruit Have a Serious Advantage Over the Rest of Us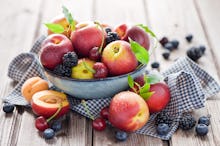 Grapes are not just good for making wine. Eating a handful of them every day could cut your risk of heart disease in half and add years to your life.
Not a grape fan? Not to worry: Strawberries also do the trick.
In fact: Eating fresh fruit daily has an astounding impact on overall health, according to new research from Oxford University, which found that people who incorporated berries, apples or melons into their daily diet had a 32% lower risk of death than those who never ate fruit.
That means people who ate fruit daily, no matter their age, were more likely to reach the average life expectancy than people who didn't. The fruit eaters also had a 40% lower risk of death from stroke and a 27% lower risk of dying from heart disease.
Protection against the deadliest killers: The findings are based on a study of nearly half a million Chinese people from 10 rural and urban areas. They contain important takeaways for China — where stroke is the single leading cause of death — as well as the U.S., where heart disease remains the primary killer.
At the beginning of the study, the scientists asked the participants to report the amount of fresh fruit they ate: "Never," "once a month," "one to three days a week," "four to six days a week" and "daily." For the next seven years, close to 20,000 of the participants developed heart disease and another 20,000 had strokes. 
An apple a day: But people who ate fruit every day were far less likely to succumb to disease and death.
And the more fruit they ate, the healthier they were. The daily fruit eaters had a 25 to 40% lower risk of cardiovascular disease, a 15% lower risk of the most deadly form of heart disease and a 25 to 40% lower risk of stroke. Most daily fruit eaters consumed one and a half portions – one and a half apples or a handful and a half of fresh berries.
The takeaway: While expensive fruits such as blueberries and strawberries (frequently praised for their alleged health benefits) can be out of reach for people on a budget, more affordable alternatives, such as apples and oranges, provide the same perks. 
So next time you pack a lunch, toss a piece of fruit in the bag. It might mean a lot more lunches down the road.