40 Facts About the NFL That Will Blow Your Mind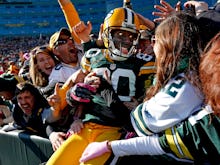 America's favorite sport kicks off this week at stadiums around the country. What follows are 40 little-known facts about the NFL that are certain to wow your friends and spice things up around the water-cooler. Please use responsibly.
1. If all 256 regular-season games finished in a 7-7 tie, the playoffs would be determined by coin toss.
The tiebreaking procedures in the NFL Record & Fact Book have everything covered.
Image Credit: AP
2. The Arizona Cardinals are older than the state of Arizona.
The Cardinals were founded in 1898, while Arizona was granted statehood in 1912.
Image Credit: Getty
3. The Denver Broncos and Seattle Seahawks have gone a combined 46-8 since their states became the first — and only to date — to legalize recreational use of marijuana.
How shrewd of Broncos quarterback Peyton Manning to buy 21 local Papa John's stores two weeks before it was voted through.
Image Credit: ispot.tv
Image Credit: Getty
5. Since 1997, the Dallas Cowboys are 136-136 overall, including 8-8 in 2011, 8-8 in 2012 and 8-8 in 2013.
America's Team has become the statistical embodiment of mediocrity.
Image Credit: Getty
6. It's estimated that a boy born to Samoan parents is 56 times more likely to play in the NFL than any other kid in America.
A 2010 segment on 60 Minutes examined the phenomenon.
Image Credit: AP
7. Brett Favre's first completed pass was to Brett Favre.
The longtime Green Bay Packers quarterback completed his first pass to himself for a loss of seven yards. (Favre's first attempted pass was a touchdown ... for the other team.)
8. Of the past 17 quarterbacks to win the Heisman Trophy, only one has won an NFL playoff game: Tim Tebow.
Image Credit: Getty
9. The Philadelphia Eagles are the only NFL team with a logo that faces left.
Image Credit: psdcovers.com
10. Steve Tisch, co-owner of the New York Giants, is the only person to have ever won both an Oscar and a Super Bowl ring.
Image Credit: amazon.com
12. Donovan McNabb played four games in the state of Florida during his NFL career. He vomited on the field in three of them.
But each of those drives ended with the longtime Eagles quarterback throwing a touchdown pass. Just saying.
13. NFL cheerleaders are generally paid between $70 and $90 per game.
Image Credit: AP
Image Credit: guysgirl.com
The rarest scoring play in football hasn't occurred in an NFL game since 1940, though it's happened twice in college games over the past decade.
Image Credit: @cjzero
16. The Tonawanda Kardex — a team named after an office furniture company — played one game in 1921, lost 45-0 and folded with an all-time NFL record of 0-1.
Image Credit: Wikipedia
18. Whitney Houston's rendition of "The Star-Spangled Banner" from Super Bowl XXV is the only version of the national anthem to reach the Top 20 on the U.S. charts.
It peaked at No. 20 in 1991, and went as high as No. 6 when it was re-released after the September 11 attacks.
19. Dave Winfield was drafted by the Minnesota Vikings, even though he never played college football.
Incredibly, the Hall of Fame baseball player was selected in the MLB, NBA, ABA and NFL drafts in 1973.
Image Credit: Getty
The defunct franchise, which played just one NFL season in 1926, operated out of Chicago.
Image Credit: vaultofamericanfootball.com
21. Only two players over the age of 40 have caught a pass in an NFL game: Jerry Rice (161 times) and Brett Favre (once).
Image Credit: AP
22. Out of 48 Super Bowl coin tosses, the results have been 24 heads and 24 tails.
Image Credit: AP
23. Jake Plummer holds the record for most career tackles by a quarterback with 20.
Image Credit: AP
24. A 1994 study of 7,000 former players found that average life expectancy for NFL players is 55 — or 52 for linemen — compared to 77.6 for the general U.S. population.
Image Credit: Getty
25. The Giants have won four Super Bowls and Bill Belichick has been on the sidelines for each of them.
He was the Giants' defensive coordinator when they won Super Bowls XXI and XXV, and the Patriots' head coach when they lost to New York in Super Bowls XLII and XLVI.
Image Credit: AP
26. Only 8.01% of money spent on pink NFL merchandise is actually going towards cancer research.
A 2013 story on Business Insider showed where the money really winds up.
27. "The Super Bowl Shuffle" was nominated for a Grammy in 1987.
But it (correctly) lost to Prince.
28. The only player in history to score a touchdown against all 32 NFL teams is Terrell Owens.
Image Credit: AP
29. Denver Broncos linebacker Paris Lenon is last active NFL player to have played in the XFL.
Image Credit: AP
30. Dan Marino and John Elway were selected by the Kansas City Royals in the same MLB draft.
Image Credit: Getty
31. The only player in history to win a Super Bowl, a Grey Cup and an XFL Championship is Bobby Singh.
Image Credit: cfl.ca
32. Tom Brady has caught one pass — and only one pass — in his career.
33. Detroit Lions' second-year kicker Havard Rugland, a native of Norway, credits Wu-Tang Clan for his mastery of the English language.
Image Credit: AP
34. The NFL's last seven tie games happened on Nov. 24, Nov. 11, Nov. 16, Nov. 10, Nov. 23, Nov. 16 and Nov. 19.
Image Credit: AP
35. The longest non-scoring pass in NFL history was Jim Hart's 98-yard completion to Ahmad Rashad from the 1-yard-line to the 1-yard-line.
Rashad (then Bobby Moore) went on to become a well-known studio anchor and the host of NBA Inside Stuff.
Image Credit: AP
36. Since returning to NFL in 1999, the Cleveland Browns have used a league-high 20 starting quarterbacks. Only one has a winning record: Brian Hoyer. 
Image Credit: Getty
38. Every year when Kurt Warner started all 16 games, his team went to the Super Bowl.
Image Credit: Getty
40. It's only cheating if you get caught.