Britain Takes a Stand Against American Apparel's Sexist "Back to School" Ads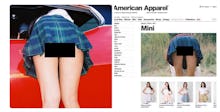 American Apparel
The news: American Apparel has been in a PR tailspin lately: Not only was CEO Dov Charney fired in June after an onslaught of sexual harassment allegations, but a Gawker piece — written by an anonymous former employee — went viral this week, accusing the company of racist and sexist business tactics.
To top it all off, its latest ad campaign has just been banned in the U.K. — the sixth time ads for the company have been prohibited in less than three years.
On Wednesday, the U.K. Advertising Standards Authority (ASA) announced that it is banning American Apparel ads because they are "gratuitous and objectified women, and were therefore sexist and likely to cause serious and widespread offense."
What was the issue? Although sexually graphic ads are an American Apparel trademark, the ASA opposes the theme of the advertising campaign: schoolgirls. Two of the offending images in particular contained voyeuristic shots of what appeared to be girls in school uniforms — and were linked to collections titled "School Days" and "Back to School."
The ads "had the effect of inappropriately sexualising school-age girls and were therefore offensive and irresponsible for that reason too," the ASA concluded.
"Furthermore, we considered the images imitated voyeuristic 'up-skirt' shots which had been taken without the subject's consent or knowledge which, in the context of an ad for a skirt marketed to young women, we considered had the potential to normalise a predatory sexual behaviour," it added.
This isn't the first time American Apparel sold clothes with sex. For the most part, this campaign is par for the course for the retailer, which has a reputation for provocative ads. Check out this helpful, Buzzfeed compilation (NSFW) if you need a refresher.
In its defense, American Apparel has said that one of the models from its new campaign was 30 years old, and that the models were "happy, relaxed and confident in expression and pose and were not portrayed in a manner which was vulnerable, negative or exploitative."
Time for a change? While the models may have been happy to participate, there's no denying that sexualization is in American Apparel's DNA — even when it comes to uniforms for schoolgirls. And though some may find this offensive, others find it more ... boring.
"But these ploys have gotten tiresome. Sure, this latest up-the-skirt shot may get media buzz (like this article), however, American Apparel is doing little to help the bottom line by pursuing the same, unsurprising advertising strategy," wrote TIME's Eliana Dockterman, who noted that American Apparel's shares fell 84% over the past five years. 
"Most high schoolers and 20-somethings won't have followed the founder's scandals but they will have been exposed to the porny images in American Apparel's windows or on their website. And when you see the same graphic pictures every day, you become ambivalent," Dockterman added.
It's one thing to get your ads banned for being too provocative — but when risqué turns into passé, then you're really in trouble.