8 Rising Pop Music Stars Just Broke a Historic Glass Ceiling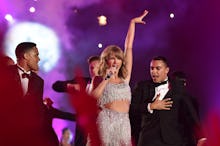 Remember these names: Taylor Swift, Meghan Trainor, Nicki Minaj, Jessie J, Iggy Azalea, Ariana Grande, Sia and Charli XCX. They're making history.
As of Wednesday afternoon, eight of the 10 most popular songs were performed by women. But that's not even the most striking thing. The most successful of these songs are about women owning their image. Taylor Swift's "Shake It Off," Meghan Trainor's "All About That Bass" and Nicki Minaj's "Anaconda," which are about ignoring the haters, accepting your curves and celebrating your assets respectively, aren't love songs directed at men, but love songs directed at both themselves and all other women. 
It's a simple distinction, but it's a historic one: For once, the majority of people in this country want to hear from women who feel pretty good about themselves.
Perhaps for the average millennial this may not come as quite of a shock — after all, women have made waves in the music industry in recent years by making it very clear that they can write their own songs, wearing whatever their hearts desire and speaking up about the issues they care about.
But if you go back to just a mere month ago to early August, the number of women in the top 10 was three. And if you go back even further, in 1984, only four women snagged a place on the charts during the entire year. Women have been making great music forever. Only recently have so many wanted to listen.
It's not just the fact that these are good songs by women, though — it's that these songs are bucking all the industry's innate sexism. These songs reject the notion that a female's sole function in pop music is as the object of a man's desires. 
According to an experiment published in the Social Science Journal, researchers at the University of Colorado in Colorado Springs examined the 100 most popular songs from 1958 to 1998 and specifically looked for references to love. Though "references to sex in lyrics peaked during 1976–1984, when women used sexual references five times more than men," over time, "references to love in lyrics performed by women artists decreased." 
Slowly but surely, female artists have moved away from singing solely about relationships and desire. Just look at those sample top ten from 1984 and think about this week's list. Over the course of that year, Deniece Williams' "Let's Hear It for the Boy," Cyndi Lauper's "Time After Time,"  Tina Turner's "What's Love Got to Do With It," and Madonna's "Like a Virgin" made the list. Let's not forget Madonna's iconic lyric, "Didn't know how lost I was until I found you."
It's not like sex has faded from the national musical consciousness; according to another study conducted in 2011, 92% of the country's most popular songs are about love (more specifically, sex). But this batch of leading songstresses are brave enough to talk about struggles with alcoholism (Sia's "Chandelier") and living life to the fullest (Ariana Grande's "Break Free"), too. They're breaking the mold, and a population that doesn't much like buying music anymore is paying to hear them sing. You can say pop music is fluffy. You can say it's insubstantial. But if you listen closely enough, you can hear it making history.