16 NFL Players Who Could Become Household Names This Season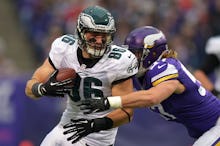 With NFL season kicking off Thursday night in Seattle, here's a look at 16 up-and-coming players whose names you should probably know.
Jamie Collins, LB, New England Patriots
Image Credit: Getty
Collins played sparingly during his rookie season last year, but had a breakout game against the Indianapolis Colts in the playoffs. He's bulked up this season, and at 6 feet 3 inches, 250 pounds, he can get physical and still have the ability to cover receivers with his speed. Collins is the complete package, and should be the focal point of a Patriots defense that will look to keep up with Tom Brady's offense as they try to return to the Super Bowl.
Justin Hunter, WR, Tennessee Titans
Image Credit: AP
The 23-year-old wideout showed flashes of brilliance in his rookie season last year. In a game against the Oakland Raiders, he scored a 54-yard touchdown and finished with six receptions and 109 yards. Later in the season, he went for 114 yards on four catches against the Denver Broncos. With Ken Whisenhunt in as head coach in Tennessee, the Titans are looking for a passing threat to emerge from their receiving corps. Among that group, no one has more upside this season than Hunter.
Montee Ball, RB, Denver Broncos
Image Credit: AP
Led by Peyton Manning, the Broncos' offense put up historic numbers last year. So it's a little unfair that they might be adding an elite-level running back in Ball to the equation. In his rookie season, Ball played behind the since-departed Knowshon Moreno and struggled to gain John Fox's trust with his pass protection and untimely fumbles. But now, the deck is cleared for Ball to showcase his running skills in his sophomore campaign. If he gets going early, look out.
Travis Kelce, TE, Kansas City Chiefs
Image Credit: Getty
Quick, name a Kansas City Chiefs wide receiver! OK, maybe Dwayne Bowe or Donnie Avery come to mind, but only if you've spent hours cramming for your fantasy football draft. In the preseason, Kelce finished with 10 catches, 185 yards and a pair of touchdowns, and there are whispers that he's reminding people of Rob Gronkowski. That's high praise, and the scary thing is, he might live up to that comparison this season in Andy Reid's pass-happy scheme.
Markus Wheaton, WR, Pittsburgh Steelers
Image Credit: AP
The Steelers were a disappointment last season, but quietly, Ben Roethlisberger had a huge year and so did No. 1 pass-catching option Antonio Brown. With the added attention given to Brown this season and the departure of Emmanuel Sanders, Wheaton is slotted for additional workload, which means his receptions, yards and touchdown totals should all make a jump.
Zach Ertz, TE, Philadelphia Eagles
Image Credit: Getty
Some were surprised when the Eagles released DeSean Jackson during the offseason, but part of the reason they were comfortable with making the move is because they have Ertz at tight end. Touted as one of the best route runners in the league, Ertz will be featured heavily in Chip Kelly's dynamic offense. When you think of the Eagles, you think Nick Foles and LeSean McCoy, but don't forget Ertz, who might be celebrating in the end zone a lot more than you anticipate.
Byron Maxwell, CB, Seattle Seahawks
Image Credit: AP
Maxwell will be a full-time starter for the first time this season, and will play opposite Richard Sherman as the other cornerback on the Seahawks. Last season, the 26-year-old earned his stripes as a member of the Legion of Boom, intercepting four passes and breaking up 13 others, the highest mark on the team. Opposing quarterbacks might shy away from Sherman, but they're going to find out the Seahawks actually have more than just one elite corner man.
Ryan Tannehill, QB, Miami Dolphins
Image Credit: AP
Andrew Luck and Robert Griffin III get all the headlines, but the third quarterback taken in that draft, Ryan Tannehill, is pretty good too. Last season, Tannehill finished with 3,913 passing yards, 24 touchdowns and completed 60.4 percent of his passes. The Dolphins finished 8-8, so his late-season surge and overall above-average season got very little buzz. If Miami is going to challenge New England this season in the AFC East, it will need Tannehill to continue his stellar play, which could vault him into the elite group of quarterbacks in the league.
Cordarrelle Patterson, WR, Minnesota Vikings
Image Credit: AP
The Vikings traded away Percy Harvin for a draft pick that turned into Patterson before the start of last season. Harvin won a championship with the Seattle Seahawks and turned in an incredible performance in the Super Bowl. Now it's the Vikings' turn to reap the full rewards of the exchange. Norv Turner is the new offensive coordinator in Minnesota, and look for him to feature Patterson prominently in his offense. The 23-year-old is talented, athletic and ready to break through this season.
Toby Gerhart, RB, Jacksonville Jaguars
Image Credit: Getty
Until the Jaguars start the Blake Bortles era, their new running back, Toby Gerhart, might be the only reason to watch the team. He's expected to take on an all-purpose role both in the backfield and in the passing attack. The Jaguars will be leaning on the 27-year-old running back to keep their offense rolling.
Dwayne Allen, TE, Indianapolis Colts
Image Credit: AP
Allen was all set for a huge year in 2013, but he injured his hip just 32 snaps into the season and was shelved for the rest. He's back, healthy and ready to step into a bigger role in the Colts offense. T.Y. Hilton and Reggie Wayne will still be the featured options for Andrew Luck, but look for Allen to surprise a few people with his production.
Terrance Williams, WR, Dallas Cowboys
Image Credit: Getty
The Cowboys are a frustrating team for their supporters. They've lost a winner-take-all NFC East division matchup in the final game of the season for three years running, finishing each campaign with a .500 record. But one thing they do is score a lot of points, and that shouldn't change this season. Everyone knows about Dez Bryant, and Jason Witten remains Tony Romo's safety valve, but if you're looking for a secondary wide receiver to emerge, look no further than Williams, who should be seeing a lot of targets this season with Miles Austin departed to Cleveland.
Sio Moore, OLB, Oakland Raiders
Image Credit: AP
No one's really paying attention to the Oakland Raiders right now. But if you're stuck watching one of their games this year — Raiders versus Jets this Sunday! Get excited! — pay attention to Moore, who had 50 tackles and 4.5 sacks on an abysmal Oakland team last year. There's little promise for the Raiders this season, but Moore will be a bright spot.
Andre Ellington, RB, St. Louis Cardinals
Image Credit: Getty
Ellington was one of the most electrifying rookie running backs last season, but the Cardinals were careful with managing his workload. So even though his yards per carry was much better than starter Rashard Mendenhall, the two worked a timeshare. Mendenhall retired in the offseason, and now the Cardinals are set to unleash Ellington. If you don't know him yet, expect to see him on many highlight reels this year.  
Jordan Reed, TE, Washington Redskins
Image Credit: Getty
Jordan Reed was impressive as a rookie last season, finishing second in receiving yards on the Redskins despite playing in just nine games. He's the perfect red-zone target for Robert Griffin III, and if he can stay healthy this season, expects to score a lot of touchdowns as he continues to develop a chemistry with RG3.
Brandin Cooks, WR, New Orleans Saints
Image Credit: AP
The Saints are perennially one of the best offensive teams in the league. So what did they do in the first round of the draft this year? Take wide receiver Brandin Cooks with the 20th pick. The Oregon State wide receiver has been getting a lot of buzz during preseason, and based on his skill set, it seems like only a matter of time before he moves up the depth chart and becomes one of Drew Brees' go-to targets.