Stunning Photos Challenge Society's Stereotypes of Male Redheads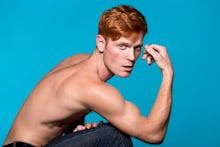 Photographer Thomas Knights wants to change the world, and his weapon of choice is redheaded men.
Knights, a redhead himself, just launched the latest exhibition for his "Red Hot" project, which showcases what he considers to be a severely underrepresented group in popular culture: ginger men. Red Hot features simple portraits taken before a bright blue background. 
Knights said that society's perception of ginger men skews toward the negative. "[They're] the base joke of the male species," he told Mic. "There are hardly any ginger leading men, or positive role models on TV or film." Highlighting gorgeous men like those in Red Hot is his attempt at changing the status quo.
When the project debuted in December 2013 in London, it featured 64 models and two short films. It was so successful that Knights decided to create a coffee table book Red Hot 100, which launched last night at New York City's BOSI Contemporary gallery. The 100 men come from all walks of life — there are professional models and Olympic athletes, but there are non-famous faces, too. (The cover model, Kenneth Bek, was discovered by Knights in a juice shop.)
"I just want ginger guys to be seen as the same as every other guy," Knights told Mic. "People say, 'Oh, what makes them more sexy? What makes them different? What makes them better?' And I'm like, 'There's nothing different about them. It's just that they've got ginger hair.' That's all I kind of want this to do ultimately — to bring them back up to where everyone else is."
A rough road: Redheads make up just 1-2% of the world's population. Their rarity has helped turn them into a target for bullies, particularly as children. "Any kid growing up, at school, is going to have a hard time if they're different. And red hair is different," Knights said. 
Gingerism — the bullying of redheaded people — is a real problem, although it appears to be more common in the U.K. than in America. After 15-year-old Helena Farrell committed suicide, her father claimed that a lifetime of bullying because of her red hair was partly to blame. There was even a PSA against bullying that featured a redheaded child:
To that end, Red Hot 100 has raised over 6,000 pounds for anti-bullying charities. Daniel Newman, an actor featured in Red Hot, told Mic that he was a target growing up. "Being a kid, not knowing how to defend yourself — it's an easy thing [to be made fun of for]." Even as an actor, he said, he's been asked countless times to dye his hair for a role. 
A new opportunity for redheads: One goal of the project, besides battling existing stereotypes, is to create a new "brand" for people with red hair. (The project already sells shampoo and conditioner targeted toward ginger men, as well as a calendar and the book.) 
"There is literally no cool brand for gingers," Knights said. He can't do this with men alone, he decided, which is why he eventually plans to photograph ginger women. "They're universally loved. They appeal to girls, to gay guys, to straight guys. As soon as I shoot redhead girls, it's going to suddenly make sense." For now, though, he'll remain focused on the boys.
The project is already making a splash. "A lot of people have said this to me, they're like, 'I now have a thing for ginger guys because of your exhibition. I don't know what's happened!'" he said. His mission, it seems, has been accomplished. 
Image credit (all): Thomas Knights