Your Friends Who Went to Burning Man May Have Brought Home a Very Unwanted Souvenir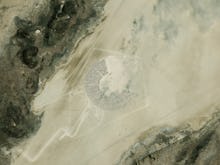 Bad news, Burners: The 65,000 people who just got back from Burning Man may be bringing home more than just memories. They might've been exposed to the West Nile Virus (WNV).
What? Nine mosquito traps in Gerlach, Nev. – a town near Black Rock Desert – tested positive for the mosquito-borne ailment this week, which attacks the nervous system and causes brain inflammation or meningitis.
This could get ugly. In a press release on Wednesday, the Washoe District Health Department said Nevada's first human case had been confirmed earlier in the summer. And on Aug. 25, test results from the mosquito traps affirmed that the virus was indeed present in Washoe County, which encompasses the desert region where Burning Man is held, officials told the Reno Gazette-Journal. 
Is there really cause for concern? Yes. 
If you just returned from the counterculture festival and are experiencing symptoms such as fever, headache, vomiting or a rash, then you should see a doctor. However, the Centers for Disease Control and Prevention (CDC) reports that 70-80% of people who have been infected do not have symptoms, making the mosquito trap results that much more worrisome.
Currently, there are no vaccines or cure for the infection. And in warm climates like California, where mosquitoes spread the virus much more rapidly, the WNV has seen a recent surge in reported cases: This year alone in the state, nine people have died and 129 total cases have been confirmed, reports the Los Angeles Times.
Luckily: No reported cases have come out of Burning Man just yet. And the Gerlach General Improvement District is ensuring the infection is halted immediately by killing all infected mosquitoes.
But the damage may have already been done. It's a discomforting thought after days of otherwise transformative art- and music-based festivities.