The Highest-Paid Woman in Television Makes $11 Million More Than the Highest-Paid Man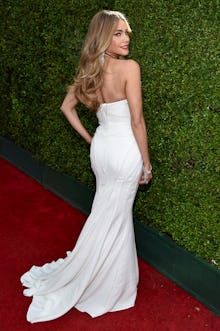 The news is a victory for women in television who routinely get the short end of the stick in the cutthroat industry. According to the Los Angeles Times, women only hold one-third of onscreen jobs and appear as prime-time protagonists 50% less frequently than men. That's just the uphill battled faced by women in front of the camera: on the production side, there's even more ground to gain.
With these stats in mind, it might come as a surprise that the highest-paid person in television today is a woman — and she makes $11 million more annually than the highest paid man. 
Vergara's success has routinely been met with controversy. A sexist Emmys bit this year saw Vergara literally displayed on a pedestal, celebrating her looks above all else — a career-long routine. The backlash to her success therefore often becomes a question of how much of her fortune is a side effect of sex appeal. The reality is, Vergara's incredible earnings are only made possible thanks to incredible financial ambition and business savvy.
In addition to the $325,000 she makes per episode on Modern Family, the majority of Vergara's earnings come from endorsement deals with companies that include CoverGirl, Head & Shoulders, Diet Pepsi, Synthroid and AT&T. She is also in the midst of a 12-year deal with Kmart, hoping to bring Hispanic clients to the box store giant, as well as being the cofounder of Latin World Entertainment, a Hispanic talent management and entertainment marketing firm. Add on film roles and a newly launched perfume and it's just simple math to rack up $37 million. 
Kutcher, for his part, earned his $26 million through his role on Two and a Half Men, as well as via tech investments. 
Law & Order: SVU's Mariska Hargitay and The Big Bang Theory's Kaley Cuoco come in just behind Vergara in earnings, holding the No. 2 and No. 3 spots for highest-paid women in TV. 
While Vergara's standing does not even begin to correct all the ills women face in the television workforce, it's still heartening to see a woman top the TV earners list. Coupled with the fact that Vergara is a Latin American actress, in a television climate where only 5% of female roles are Latina, the feat becomes even more monumental. Her onscreen work got Vergara into the spotlight, but it's her business work behind the scenes that sets her financially so far ahead of the pack.