How Dallas Cowboys Owner Jerry Jones Saved the NFL From a PR Catastrophe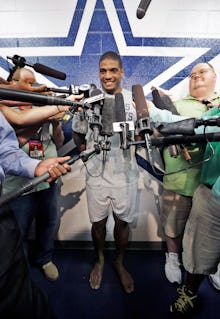 Just days ago, some — including me — were questioning whether Michael Sam would ever earn a paycheck from an NFL team again. That all changed Wednesday afternoon, when the Dallas Cowboys announced that Sam had been signed to their 10-man practice squad.
"We felt like it was a good move for our football team right now," head coach Jason Garrett said during a press conference. "We're bringing a player in we wanted to see on the practice field, and got nothing but good reports about him from our people and the people in St. Louis. We just want to give him a chance to come in and see if he can help our football team."
Getting cut from the St. Louis Rams might actually be a blessing in disguise for Sam.
Football Outsiders ranked the 2013 Cowboys defensive line 26th out of 32 teams in terms of pass rushing and 29th against the run. By comparison, the Rams ranked first against the pass and fifth against the run. So even if Sam had made the Rams' 53-man roster, it's unlikely he would've actually found his way onto the field with so much established talent already there. Finding playing time for the Cowboys, on the other hand, is a much more attainable goal.
Cowboys starting left defensive end George Selvie has been hobbled for much of the preseason with an injury. The 6-foot-4, 270-pound lineman recorded 37 tackles, 7 sacks, and 1 forced fumble during 16 games last season. Starting right defensive end Jeremy Mincey has been a career benchwarmer, but backed his way into a starting role with the Cowboys. The 30-year-old appeared in two games last season, recording a single tackle. Though their depth chart may try to argue otherwise, this lineup is anything but set in stone.
There remains a very real possibility that Sam may, at some point in the season, be called up to the active roster.
There was concern that adding Sam to any team would be a "distraction" because of the increased media attention he would generate as the NFL's first openly gay player. "Distraction" is a term commonly leveled at gay athletes as an excuse to exclude them, though teams seem to find a rationale for adding players who bring with them actual distractions — like Ray Rice and his on-tape domestic violence, Michael Vick finding a team after serving a sentence for running a dogfighting ring, Plaxico Burress being signed by the Jets post-shooting himself in a nightclub and former Ravens linebacker Ray Lewis having faced murder charges.
By comparison, Sam is anything but a distraction.
Cowboys owner Jerry Jones has never been one to let a little off-field attention go to waste. The man who laid plans for a billion-dollar stadium never met a distraction he didn't like. A shrewd businessman, Jones has a history of providing players — like beleaguered cornerback Adam "Pacman" Jones, defensive lineman Charles Haley and perpetual off-field distraction Michael Irvin — with second, third and even fourth chances. It makes sense that Jones would give a talented, drama-free athlete like Sam his first chance.
Additionally, Sam won't cost the Cowboys a significant sum of money. Likely to make $6,300 per week on the practice squad — or $107,100 for the 2014 season — Sam is about as low-risk, high-reward as it gets. Should he be pulled up to the active roster, his salary will increase to the rookie minimum of $420,000, prorated. Furthermore, practice squad players' contracts are not guaranteed, so the Cowboys could cut Sam loose at any time.
It's entirely possible that Sam will make his debut in the NFL this season, whether with the Cowboys or another team, as any team can offer him a contract so long as he will then be placed on their active roster. But whether or not that happens, Jones may have very well saved the NFL from a monster PR disaster and accusations of homophobia.