Charli XCX Slams Sexist DJ Who Accused Her of Masturbating on Air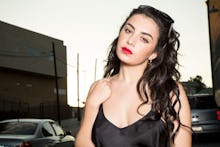 Sexism — not even celebrities can avoid it.
In fact, when female celebrities do inevitably encounter sexism, they are much more likely to do so in public domains, which makes the violence acute and widespread at the same time. 
Pop star Charli XCX, the British singer/songwriter who cowrote hits like Iggy Azalea's "Fancy," knows this all too well. In a recent interview to promote her new single "Break the Rules," DJ Giel Beelen of the Dutch radio show Giel! essentially accused her of masturbating for him.
The offensive commentary began when Beelen asked Charli to record herself saying "Good morning" in "the most sensual way" possible. Before she could respond, he asked, "Do you have your hands now on your body?" The shocked pop star said her hands were actually behind her back. The DJ pressed on: "I thought you were fingering yourself or something." Playing along, Charli retorts, "I wouldn't do that for you." 
Her anger spilled out into her tweets after the interview. 
Beelen couldn't understand or was unwilling to understand Charli's frustration. He tweeted "I don't care, I love it," a reference to an Icona Pop song Charli actually cowrote, before ending with a stupid emoticon wink, as if doing so nullifies or satirizes his misogyny. 
Clearly sexual harassment, to this guy, is all just fun and games. Just to hammer that particular point home, Beelen managed to insult female musicians of all kinds during a different part of the segment, when he noted that girl bands normally look "great" but sound "terrible." When Charli called the comment "massively offensive," Beelen again laughed the whole thing off. "I think you have a good band that not even looks good but sounds good as well," he said.
This is not the first time Charli has spoken out about sexism in the pop music industry. During an interview with Complex magazine in March, the singer noted that being a female artist is still difficult, given that it's an "industry predominantly lead by men... it was very easy for males that I was working with to kind of brush me aside."
People shouldn't be brushed aside, of course — and neither should behavior like this.