Gisele's New Ad Is a Kickass Answer to All Those Who Underestimate Women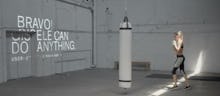 YouTube
The news: Gisele Bündchen isn't just a supermodel. 
She's also a mother, wife, philanthropist, athlete and role model. And her latest gig, as the face of Under Armour's "I Will What I Want" campaign, reinforces the last two roles more than ever before.
Background: The ad, released Thursday, doesn't feature Bündchen perfectly coiffed but rather as a sweaty, fierce and tough athlete who is ready to kick some serious butt – especially those of her critics. The video was released in conjunction with UA's live stream of comments about the campaign on their site. 
In the clip, Bündchen "looks like she's training for the UFC, not Fashion Week," AdWeek reported. And with every high kick that furiously strikes the punching bag or every push up done on the rings, real social media critiques and praise directed at her flash on the walls, alluding to the ever-present effect of being in the public eye.
One of the quotes says, "Gisele is amazing, she can do anything." Another reads, "Not that impressed with her."
"The campaign shows all the contradicting opinions she is constantly exposed to and the focus and determination it takes to tune out the noise and will what she wants," the campaign's creative director John McKelvey told AdWeek. 
About the campaign: It's a profound reminder that people who are on public platforms, such as models, actors, or even politicians, are under harsh scrutiny on all fronts. But UA's depiction of Bündchen showcases her resilience and determination in spite of it all.
The variety of workouts she displays let her physical prowess shine, while also highlighting the UA gear. She works with a heavy bag to do punching and kicks, rings for push ups, a staff for some expert martial arts and plank, where she uses the wall to hold up her feet.
Running the world: Bündchen is no stranger to high-profile ad campaigns.
She has worked with the likes of Chanel, H&M, Stuart Weitzman and Balenciaga, and graced the covers of Vogue, Marie Claire, Rolling Stone, and GQ, to name a few. She presented the 2014 World Cup trophy and was a Victoria's Secret model from 2000-2007. Not to mention being named the world's highest-paid supermodel in 2014 by Forbes.
So unless you're living under a rock, you've heard of the Brazilian beauty by now. But UA's choice in portraying her with no frills as she works out is empowering. Similar to the way the company used prima ballerina Misty Copeland as the face of an earlier "I Will What I Want" campaign, UA is proving that they understand how to take unusual figureheads and turn them into inspiring women who don't back down (and who also look amazing while they work out in Under Armour apparel, of course).
Allegedly, the supermodel's $25 million and five-year-spanning contract with UA is the biggest of her entire career, which began in 1997, according to Forbes. But no matter the price tag attached to the project, the gig fortifies that Bündchen really does put the "super" in supermodel. She is willing to stand up to her critics and remain brave in the face of all the stereotyping associated with her profession and lifestyle. 
h/t AdWeek