A Brave Gender Non-Conforming Teen's Fight Is Exposing This Absurd Double Standard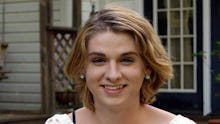 For most teens and young adults, earning a driver's license is one of the first major steps towards independence.
But South Carolina DMV officials ruined that exciting, coming-of-age milestone for one 16 year old — all because he dared to be honest about his gender expression. But while officials may have won the day, the gender non-conforming teen and his supportive mother are now deciding to fight back, filing a federal discrimination suit against the department.
Chase Culpepper passed his driving test with flying colors. But when he went to his state's DMV to get his license in June, he was told he needs to remove his makeup before his official photo for the card could be taken. Officials at the office told Culpepper that his appearance was akin to a "disguise," the clear implication? Culpepper didn't look the way they felt a boy should.
Image Credit: WYFF4
Culpepper, who lives in Anderson, S.C., was born a male but identifies as a gender non-conforming individual. "It was very degrading and I felt I was in shock," the teen told local news station WYFF4 in July. His mother, Teresa Culpepper, described officials' actions as "very hurtful." Teresa said, for Chase, it wasn't about hiding behind a disguise because "that's who he is 24/7." 
The family's lawsuit contends that the DMV's policies are unconstitutional and the court should allow Culpepper to dress however he wants to for a future photo. The New York-based Transgender Legal Defense and Education Fund (TLDEF), which is supporting Culpepper's case, formally asked the DMV to allow the teenager to retake the picture.
"Chase's freedom to express his gender should not be restricted by DMV staff," TLDEF executive director Michael Silverman wrote in a letter to the DMV in June. But according to the lawsuit, the agency did not respond or tried to resolve the issue.
The lawsuit hinges on the department's assertion that Culpepper's appearance was the same thing as wearing a disguise. As the official filing notes, the DMV's "asserted justification for requiring that [Chase Culpepper's] driver's license photo look less like his daily appearance is their preconceived notion of how males should and can look. This preconceived notion is a sex stereotype and does not constitute a legitimate state interest."
Image Credit: WYFF4
If Culpepper wins the suit, it could mark a major breakthrough for the rights of gender non-conforming Americans. As TLDEF executive director Silverman had earlier told the Los Angeles Times, the lawsuit is the first to challenge a state's policy regarding ID cards for gender non-conformists. 
While it may be something of an uphill battle in a socially conservative state, Culpepper says he's committed to seeing this through to the very end because he feels there's so much more at state for gender non-conforming people.
"I'm sharing my story because I just don't want to see other people like me have to go through this," he told WYFF4. Hopefully, he'll get his wish.