24 Photos of Fast-Food Workers Across the Country Fighting for a Decent Wage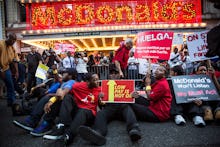 Fast-food workers nationwide are striking in more than 100 cities, demanding their wages be raised to $15 an hour.
The New York Times reports that the protests, organized by the Service Employees International Union (SEIU), were planned to be the biggest fast-food strikes in American history and involve at least a dozen sit-ins. Burger King employee and labor organizer Terrence Wise of Kansas, Mo., said that protesters "are prepared to take arrests to show our commitment to the growing fight for $15."
Some of the fast-food employees have already ended up in handcuffs, with the Associated Press reporting that workers attempting to block foot traffic in and out of retail locations were arrested in New York and Detroit:
In New York, at least three people wearing McDonald's uniforms were hauled away by police officers after standing in the middle of a busy street near Times Square. About two dozen protesters were handcuffed in Detroit after they wouldn't move out of a street near a McDonald's restaurant. In Chicago, a couple of buses unloaded a group in front of a McDonald's restaurant, chanting "Stand up. Fight Back," while 100 people crowded on the sidewalk.
Early estimates were that over 700 workers and their supporters had been arrested for their participation in the protests.
Many fast-food workers make near the federal minimum wage of $7.25 while the fast-food industry rakes in record profits. The average fast-food CEO makes more than 1,000 times what their employees do. The UC Berkeley Labor Center reports that fast-food workers are so underpaid that they require nearly $7 billion in public assistance a year. Over half of the families of full-time employees are enrolled in benefits programs. FiveThirtyEight's Mona Chalabi explains that fast-food workers are among the lowest-paid in the nation, with McDonald's employees with five to eight years of experience making a paltry $9.15. Burger King and Wendy's pay workers significantly less.
"Fast food is an industry that is doing exceedingly well, and workers feel they are in a good position to bargain for $15 an hour," Community Coalition Marqueece Harris-Dawson told the LA Times. "Workers of different stripes have been pressing to raise the conversation about the low end of the wage scale."
Here's what it looked like on the ground during today's strikes:
Chicago
Nineteen protesters were arrested after blocking a South Side street between a Burger King and a McDonald's. Protesters linked arms and were removed by police.
New York
Nineteen demonstrators were also arrested in Times Square after carrying out a similar sit-in. Bloomberg reports more than 100 protesters attended.
Kansas City, Mo.
A smaller but no less energetic crowd descended on fast-food locations, entering and protesting inside a Taco Bell and at other restaurants. In Kansas City, employees are expected to walk off the job at 60 restaurants.
Las Vegas
Ten protesters were cited in Las Vegas in a protest on the Strip. Nevada Democrats are seeking to raise the state's minimum wage in the near future.
Little Rock
Protests hit cities like Little Rock, Ark., where an additional 11 people were arrested. The crowd numbered nearly a hundred and blocked a local street.
Detroit 
Dozens were arrested after more than 100 Detroit workers and supporters shut down an East Side intersection, blocking traffic for more than 30 minutes.
The National Restaurant Association has dismissed the protesters, calling the fast-food campaign a trick by the SEIU to "boost their dwindling membership." But Demos analyst Catherine Reutschlin told Al Jazeera America that "extreme disparity" in pay will ultimately hurt fast-food profits and "be an increasing concern for the economy and shareholders."