'Bachelor in Paradise' Is the Best Worst Reality Show That Ever Was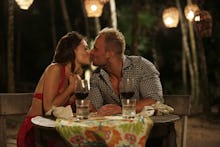 Bachelor in Paradise, summer's most unexpected and popular guilty pleasure, ended Monday night. While the series was straight trash reality television, it was trash reality television at its most brilliantly deplorable. Unapologetically self-aware, the show never tried to be something it wasn't, and in doing so became this season's lowbrow water cooler chat even among highbrow viewers. 
A spin-off of the Bachelor/Bachelorette franchise, the dating show on steroids in which an overly-tanned parade of singles vie for the hand of a person they just met, Bachelor in Paradise proved a marked improvement on a formula with rapidly diminishing returns.
The premise: Losing contestants from past seasons of The Bachelor and The Bachelorette are given a second shot at meeting the random stranger of their dreams. Only, this time, it's in Paradise! (Mexico.)
Against the odds, the show really worked. Fueled by alcohol, hormones, lowered inhibitions, probably more than a few ticking biological clocks and the rose-colored glasses that always come with "being on vacation," these singles got right down to business, and in the process (and through brilliant editing... that raccoon scene) made incredibly entertaining television.
The Aug. 4 premiere raked in an impressive 5 million viewers. To put that in perspective, that's more than the recent season premiere of the wildly (and inexplicably) popular Duck Dynasty and almost as much as the premiere of the final season of Breaking Bad, which clocked in at 5.9 million. It's also far more than the number of people who tune in on average for shows like Girls, The Mindy Project andTrue Detective. For a summer show, that's huge.
So why did this example of what the show's executive producer Chris Harrison calls "don't-think-too-hard, don't-choose-too-good-a-box-of-wine, sit-down-with-a-pint-of-your-favorite-ice-cream, just-have-a-good-laugh-and-relax TV" become as popular as it was? 
For starters, the spin-off had more than enough hookups, breakdowns, drama and delicious intrigue to fill an entire season of one of the traditional Bachelor(ette)s. It was also refreshingly honest, giving viewers exactly what they wanted without any guise of sophistication. Jada Yuan at New York magazine described it perfectly: "Imagine ABC's The Bachelor or The Bachelorette edited by pranksters, with all the talk of falling in love on a three-week reality show exposed for the fairy-tale delusion that it is, and no curtains on the fact that when you isolate a whole bunch of good-looking people with assorted psychological disorders on a beach in Tulum, they're going to have sex. A lot of sex." 
The summer's other highly talked-about reality dating series, VH1's Dating Naked, had nothing on Bachelor in Paradise. While its premise was similar — throw some attractive single people together in a steamy tropical locale and strip 'em down — the execution was, well, awkward, and the ratings reflected that discomfort. Only 826,000 viewers tuned in for the premiere. 
Bachelor in Paradise, on the other hand, hit all the right notes, low notes though they may be. Unlike past franchise spinoffs like Bachelor Pad, there was not a whole lot of time or room for scheming and backstabbing; it was all about first impressions. 
Paradise was also a revolving door of nubile Bachelor castoffs, who arrive mostly in skimpy swimwear to prove, as quickly as possible, that they're more screwable than their competition. Contestants are efficiently given the boot if they don't measure up.
Furthermore, unlike in most dating show scenarios, Bachelor in Paradise has evened the playing field. In the traditional Bachelor or Bachelorette, an entire soccer team's worth of daters compete for the attention and affections of a single person. In Paradise, it's every man or woman for him or herself, and no one reigns supreme. Every contestant is, at any time, at equal risk of being kicked out of the beach house and out of paradise. On the other hand, everyone has an equal shot at getting lucky — in love or otherwise. It's a delicious cocktail for effective filth TV.
That's not to say the show doesn't have its fair share of rightful detractors. When you look at it from a feminist (hell, a humanist) perspective, things are iffy. As the Guardian points out: "In the premiere episode of a brand new series, women are explicitly told to hustle themselves out to men as quickly as possible should they want to enjoy the great honor and pleasure that is staying in 'Paradise' (or, what appears to be a hostel-style resort in Tulum). Also, let it be stated for the record that Marquel is the only person of color on the show thus far: Not a single woman of color, or even a brunette, seems to be worthy of a place in this whitewashed tropical hell."
All true, all deplorable, but what makes for an interesting — and valid — discussion on gender roles, female sexuality and the patriarchy also makes for guilty-pleasure television.
Is encouraging a group of people to sell themselves based largely on their beauty over their brains any different than the original Bachelor, in which the gentleman in question gets about four minutes with each woman (zero with some) before deciding whom he'd like to offer a rose? Is it really any different than an online dating site like Tinder?
In the end, Bachelor in Paradise was so popular, and so watchable, not because it's quality television, but because it's not, in all the right ways. Stripped of the artifice coating most dating shows like so much caked-on foundation, Bachelor in Paradise delivers what it promises: a good time, little thought and not much more. 
Will the show be back for another season? As executive producer Harrison told New York magazine, "I can't imagine why it won't come back." Don't think to hard about it — no one else is either.