Former Virginia Governor Bob McDonnell Found Guilty of 11 Counts of Corruption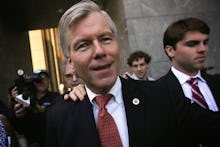 Former Virginia Gov. Bob McDonnell, a Republican, was found guilty of 11 counts of corruption by a jury today for accepting $165,000 in gifts and loans from a dietary supplement maker in exchange for political favors, according to the Washington Post.
The McDonnells will be sentenced on Jan. 6 and could face years in federal prison.
McDonnell's wife Maureen was also found guilty of eight counts of public corruption. The couple were facing a combined 14 counts for their dealings with former Star Scientific Inc. CEO Jonnie Williams.
Star Scientific was selling Anatabloc, an anti-inflammatory drug that prosecutors said McDonnell helped promote. The couple attended Anatabloc events and hosted its product launch at the governor's mansion. McDonnell also set up meetings for Williams with government officials, according to the Associated Press.
Gifts from Williams included $15,000 for their daughter's wedding reception, $20,000 in designer clothes and a $6,500 engraved Rolex. Then there were the vacations — New York City, Florida, Cape Cod, Williams' Virginia lake house — and nearly half a dozen golf trips. That's in addition to $120,000 in loans. The Washington Post breaks them all down here.
McDonnell was already the first governor in the history of Virginia to be charged with a crime, the Washington Post notes. Now he's the first one to be convicted too.
The lack of historical precedence isn't the only thing about the McDonnell trial that captured headlines. Juicy details that emerged during the case made the entire affair as much gossip fodder as political theater.
One big reason was the former governor's defense. His lawyers argued that there could be no conspiracy because the McDonnells' marriage had deteriorated to the point that they could barely even talk to each other.
In another twist, the couple's chef, angry about being accused of serving bad shrimp, handed documents over to federal investigators that helped bring about the indictment. "The lesson," as Mother Jones explains, "is to be nice to the people who prepare your food."
But the case's more dramatic flourishes shouldn't overshadow what's really at stake here: Taking thousands and thousands of dollars worth of gifts, trips and loans in exchange for pushing a product is a big breach of trust by any public official, let alone a governor with a once-promising career ahead of him.
This post has been updated throughout.