Some Women Hide Their Plastic Surgery. Joan Rivers Used Hers To Send a Message.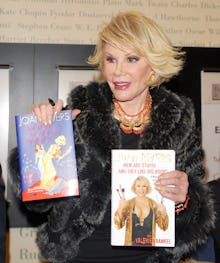 When Joan Rivers died on Thursday, many were shocked to learn she was 81 years old. 
It's no secret why. Rivers was a plastic surgery enthusiast, an unapologetic Botox user who aged into a "nipped-and-tucked octogenarian," as the New York Times put it. It all started with an eyelift in her 30s (a response to watching herself on The Johnny Carson Show). In recent years, she joked that she had over 700 procedures altogether. For Rivers, embracing aging meant fending it off at every turn. 
"I've had so much plastic surgery, when I die, they will donate my body to Tupperware."
In that way, she was like plenty of other American women who've had procedures, in Hollywood and beyond. But what separated the self-deprecating comedian from the plastic surgery pack was her unabashed candor. Where others try to hide that they've "had work done," Rivers let the world know — and she never stopped poking at society's dangerous obsession with women's looks. 
"My mother used to look at me and say, 'Looks don't count ... Now get out of my sight, you big lump!" she once quipped on The Ed Sullivan Show. Rivers drew a clear line between her own desire for cosmetic surgery and the societal pressures from which it stemmed. "We're in a society where looks count," she told Barbara Walters in a 2014 ABC special. "And all the beautiful women lie and say 'I've done nothing,' and that is so unfair. And I just wanted women to know, 'It's OK — do it.'" Rivers' open embrace of artificial beauty was a continual stab at the pervasive double standard facing women.
"My face has been tucked in more times than a bedsheet at the Holiday Inn."
And yet, there were detractors — many who said she'd gone too far, and others who rightly argued that morphing one's body to fit society's beauty standards sends a troubling message to women everywhere. As Gloria Steinem said in 2013, "We ought to think carefully about a society that makes us change ourselves instead of changing society."
If we had to guess, Rivers would agree. But, as she told Walters earlier this year, "[Plastic surgery] gives you such self-esteem. It makes you feel good." Rivers looked society's double standard in the face, called it what it was (over and over again ...) and then made her own choice.
And she never apologized for it. 
"I wish I had a twin, so I could know what I'd look like without plastic surgery."