At Last, Some Actual Good News in the Ukraine Crisis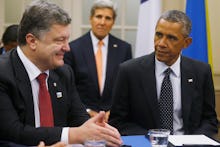 Getty Images
Updated Sept. 5, 9:40 a.m.
The news: After a week of belligerent posturing and mixed signals, representatives from the Ukrainian government and pro-Russian rebels have agreed to enact a cease-fire to take effect at 15:00 GMT (11:00 a.m. EST) on Friday. The officials signed the agreement in Minsk, Belarus.
"At 1400 local time, provided the [Minsk] meeting takes place, I will call on the general staff to set up a bilateral cease-fire and we hope that the implementation of the peace plan will begin tomorrow," Poroshenko said at on Thursday at the NATO summit in Wales.
This is a welcome development in the region. According to the BBC, more than 2,600 people have already died from the five-month conflict between the Ukrainian government and the separatist rebels. While there have been local agreements to halt fighting, such as when the Malaysia Airlines plane was shot down, Friday's possible cease-fire would be the first truce between the two sides.
The announcement also follows the proposal of a seven-point peace plan by Russian President Vladimir Putin, which would end the fighting in Ukraine — on the condition that the contested territory is ceded to the separatists. But on Wednesday, the Kremlin backtracked a bit, clarifying that a cease-fire was the immediate priority, and that the sovereignty of the region can be sorted out at a later time.
"This is not a comprehensive plan. This is a proposal on priority measures and everything else is an issue for further negotiation," Kremlin spokesman Dmitry Peskov said in a statement.
But this is far from over. Both sides have been cagey about the cease-fire, expressing doubt that the other would hold to the agreement. Western leaders have similarly advocated caution moving forward, and all signs indicate they're still moving forward with additional sanctions against Russia. This week, France announced it was canceling the delivery of a Mistral helicopter carrier to Russia, and on Wednesday, President Obama urged NATO members to take a strong stance in this conflict.
"NATO must make concrete commitments to help Ukraine modernize and strengthen its security forces. We must do more to help other NATO partners, including Georgia and Moldova, strengthen their defenses as well," Obama said in a speech in Estonia, according to Reuters.
And while the military conflict might be calming down, there is still the ongoing gas crisis to consider. Since June, Russian gas giant Gazprom, which normally supplies more than half of the gas consumed in Ukraine, has withheld deliveries. Russia has maintained that it's a simple matter of unpaid debts and price inflation, while Ukraine has accused Kremlin of politically motivated price-fixing (Gazprom increased prices by 80% during the Ukrainian protests in February). And so far, there isn't a resolution in sight.
"We are ready to discuss the resumption of cooperation with Ukraine in the gas sector," Russian prime minister Dmitry Medvedev said in a statement this week, adding that everything was contingent on Ukraine paying "existing debts, which have reached an astronomical figure." Given that the alleged debt is over $5 billion at this point, that's not going to happen any time soon.