How Joan Rivers Paved the Road for Women in Comedy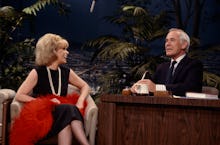 Chelsea Handler. Sarah Silverman. Kathy Griffin.
You might never have known the names of these hilariously foul-mouthed women of comedy had it not been for Joan Rivers. The legendary comic, who passed away Thursday afternoon at the age of 81, blazed an unmistakable trail by becoming the first woman to host a late-night variety show on network television, but she was breaking barriers for women long before that. 
From her raunchy stand-up material in the 1970s to her public embrace of cosmetic surgery, Rivers forced Americans to have more uncomfortable but necessary conversations about the role of women in society than any comic before her. Looking at her five-decade career, you can see the entire arc of modern feminism, from its first cautious steps forward to the groundswell of cultural changes we see today. Controversial as she may have been, Rivers didn't just coast on feminist victories – she made the waves herself.
In the early '60s, Rivers was just a female Borscht Belt comedian, with a lot of tame jokes about growing up Jewish ("I was the only Jewish kid in a Catholic neighborhood. They all did Hail Marys, I did Hail Murrays."). But In the '70s, as women's liberation hit the mainstream, her material became much raunchier. She consistently worked subjects women were not supposed to talk about, especially sex, into her act: "A man can sleep around, no questions asked. But if a woman makes 19 or 20 mistakes, she's a tramp," went one joke. She talked about abortion, plastic surgery, even her own anatomy: "My vagina is like Newark. Men know it's there, but they don't want to visit." Rivers never copped to being directly influenced by the feminist movement, but her jokes challenged the male establishment which preferred its women seen but not heard. Rivers demanded to be both.
She will be remembered as both a feminist trailblazer and a workaholic, but one could not exist without the other. Her dogged commitment to stand-up was not uncommon among comedians of her generation – George Burns worked into his late nineties, while Don Rickles is still performing at 88 – but it also reflects the razor-thin margin of success women faced in her era. In the 1960s, there were only a handful of working female comedians, and modern feminism was in its early stages. (Betty Freidan's seminal work The Feminine Mystique was released in 1963, the same year Rivers had her first gig in Greenwich Village) Rivers worked as if she never knew when the men who bought the tickets and controlled the airwaves would change their minds and decide she had no place in the boy's club. A 1965 review of Rivers' in the New York Times spotlighted her gender, calling her "a new comedienne of ripening promise ... an unusually bright girl who is overcoming the handicap of a woman comic, looks pretty and blonde and bright and yet manages to make people laugh." 
Upon her first appearance on The Tonight Show in 1965, Johnny Carson famously told her on the air that she "was going to be a star," and he was right. But even at her most famous, she kept reinventing herself and trying to prove that she belonged. In the 1970s, she was a regular guest star on The Carol Burnett Show (another comedienne who owes something to Rivers) and Hollywood Squares. In 1983, she became the "permanent guest host" of The Tonight Show. It was a watershed moment for female entertainers as Carson created the position on his esteemed show just for her.
Later in the decade, Rivers hosted two shows of her own, an ill-fated late-night offering for Fox and a successful daytime talk show, for which she won an Emmy. In the 1990s, she reinvented herself again as an awards show red carpet fixture for the E! network, while continuing to appear regularly on television as both an actress (she had a short arc on Nip/Tuck) and a personality (she appeared twice on Celebrity Apprentice). And then of course there were her books, her theater work and her continued stand up. Such career longevity is unheard of for any entertainer, but it is particularly remarkable for a woman of her generation. Rivers defied the Hollywood pattern of discarding women of a certain age, regardless of the star's talent.
Controversial as she was, these qualities made Rivers an icon, but she rejected the label. She saw it as a sign of irrelevance. "I don't like when the ladies come up and say, 'Oh, you broke barriers for women,'" she told PBS. "I say, 'I'm still breaking barriers.'" Maybe so, but so many of the barriers she encountered as a young comic are now rubble, and she deserves more credit for that than she ever would admit. 
Now, with her passing, Rivers has finally ceded the spotlight to those whose careers would have been impossible without the advances she fought for and won. Her success was hard-earned, and female comics are far better off for it.