The 'Parks And Rec' Cast and Make-A-Wish Foundation Made One Man's Dream Come True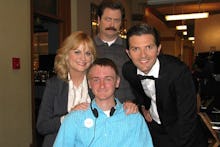 Facebook
Meet Joshua:
He is surrounded by the cast of the TV series Parks and Recreation — and this is one of the best days of his life. 
Josh suffers from a life-threatening genetic disorder and was granted his wish by the Make-A-Wish Foundation to meet the cast, crew, writers and directors of the show as they filmed segments for the seventh season of the show. 
Not only did Josh spend from 10:00 a.m. to 4:30 p.m. on the set, but the cast went above and beyond the call of duty while Josh was there — especially Amy Poehler, who took selfies with him.  
The background: Josh told his story on Reddit (username Signal-7_10-4). He explained, "It all started with Von-Hippel Lindau syndrome. I had a tumor on my spine the size of a roll of dimes that was removed, putting me in the wheelchair. I also have approximately 7 brain tumors that I take chemo for as well as two large cysts on my kidneys." 
Rather than letting the disease bring him down, he uses the "bad stuff" to aid others in their own plights. He has also raised $115,000 for St. Louis Children's Hospital and encourages others to donate to Make-A-Wish, especially after seeing the extent to which the foundation went to granting his wish. 
A day in the life: Josh had the pleasure of spending time with Adam Scott, Nick Offerman, Amy Poehler, Aziz Ansari and even Blake Henderson (Workaholics) who stopped by to chat that day. 
Here are some more of Joshua's snaps throughout the day with his personalized captions:
Josh took home that day many memories, some serious swag and the fulfillment of a longtime wish. He said: 
"Going into it, I was prepared for the possibility of some actors just acting nice. Holy crap was I wrong. Amy Poehler was litt-rally one of the kindest and most loving people I've ever met. She just kept coming back for another conversation, hug, or picture. The selfie being taken in the picture I posted above as "proof" was actually her phone. A lot of the actors actually took pictures or video. She made sure to get our contact information to send us stuff and check in every once in a while. She set us up with VIP tickets and meet-and-greet passes to see an improv show that night featuring some other NBC heavy hitters including Kenneth from 30 Rock and AJ from The Office (and P&R). I had no idea that an A-list celebrity like herself could be so sweet and kind. It blew us away."
Granting wishes: Make-A-Wish Foundation and Parks and Recreation made Joshua's dreams a reality. 
Amy Poehler was even amazed at Josh's rap skills, "Yo my name is Amy Poehler, you all know me. I was the queen of SNL on your TV. You liked Weekend Update, and all my sketches, can I get a what what for those Hillary impressions. ..."
Josh is an inspiration as he encourages others dealing with similar circumstances to stay strong. Parks and Recreation recognized that and made one man's day on set a magical one. 
h/t Uproxx