Anti-Feminist Hero Tells Women to Reject Hookups If They're Worried About Assault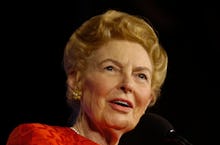 Phyllis Schlafly is at it again. 
The conservative darling and anti-feminist icon recently took to her radio show to discuss male violence and what women can do about it. She railed against what she termed "a lifestyle of frequent 'hookups,'" explaining that if women are concerned about sexual assault, they should simply get married.
Source: Soundcloud
"Marriage settles men down. Being married makes a man care more about his family's expectations and future because he sees his family as enduring. It also makes him more faithful and committed to his partner. ... Marriage also creates indirect protection for wives and daughters, because married women and their children tend to live in safer neighborhoods."
Where to even begin? First, it's inherently problematic to make women even remotely responsible for men's actions. 
Additionally, her solution — that women should get married — is not only wrong, it's also dangerous. Marriage doesn't prevent sexual assault. According to the U.S. Department of Justice, 49% of the nearly 3.5 million violent crimes committed against family members involved spouses between 1998 and 2002. In a study of 4,008 adult women, 9% of assault victims reported being raped by their husbands or ex-husbands. Schlafly's assertion that marriage makes a man "more faithful and committed to his partner" is unquantifiable and ridiculous.
This isn't the first time Schlafly has said these things. She was notorious for her work in stopping the Equal Rights Amendment (ERA) from passing in the 1970s. The ERA's passage was short by three states — largely due to her grassroots efforts. 
More recently, she came out against equal pay — women "work fewer hours per day, per week, per year" than men — and argued that the best way to improve economic conditions for women was to improve job prospects for the men in their lives.  
Women shouldn't have to curb their sexual behavior. Women should engage in safe and consensual sex with whomever they want, whenever they want, and they should be able to do so without worrying that they'll be raped. 
Even following all of Schlafly's "advice" would not protect a woman from assault or male violence. Rape and assault are committed by the perpetrator, and the only way to prevent that is to start holding those people responsible. 
h/t Addicting Info