Latest Unemployment Report Shows That Millions of Americans Are Still Struggling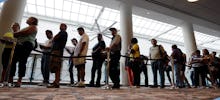 After a string of good economic news, this month's jobs report is an underwhelming setback.
The U.S. economy added 142,000 jobs in August, according to the Labor Department's monthly employment report. It's the smallest gain in eight months, and it breaks a six-month streak of job gains of more than 200,000. The unemployment rate did drop slightly from the previous month — from 6.2% to 6.1% — but the decrease is due to people leaving the job market instead of finding employment.
Diving deeper: As the New York Times explains, a weak retail sector was a big reason the jobs number fell below expectations. After adding an average of 20,000 jobs a month, the sector lost more than 8,000 in August. That put it in league with leisure and hospitality, manufacturing, and transportation and warehousing as the most struggling industries for job growth last month.
Education and health services were among the best-performing sectors, adding about 6,000 more jobs than the monthly average. Government, financial activities and construction also added more than their usual amount.
The Times does note that there could be a retail rebound — one month of downturn doesn't negate months of increased consumer spending, and big back-to-school spending in September might put the sector back on track.
Leaving the workforce: Economists have been hoping that more spending would mean more people returning for the workforce. A higher unemployment rate could be a positive labor market indicator — a rise might indicate more people are actively looking for jobs.
Instead we've had the opposite. After a slight increase earlier this year, the labor force participation rate has sunk below 63%, down from about 66% before the recession.
Time will tell whether August was just a negative outlier in an otherwise good year or the start of a worrisome trend. For now, the Times says, it's "like a sitcom showed on the in-flight screen on a flight to Chicago: It is certainly not good, but it is far from offensive."