This Heart-Stopping GoPro Video Is the Closest to Playing Quidditch You'll Get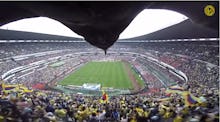 YouTube
This might be the closest you'll ever get to playing Quidditch. 
Thanks to an eagle wearing a GoProp camera, we get this boundless view of Estadio Azteca in Mexico City during a heated Club America-Pumas UNAM match. 
Though it's clearly an ad gimmick, the video itself is simply magical:
You couldn't get a better first-hand view of what it's like to fly around a stadium if you strapped a camera to Harry Potter's broomstick.
The eagle's flyby across the field is part of an old Club America tradition that occurs at halftime during every match the team plays at Estadio Azteca. But the addition of the camera is brand new. BGR's Brad Reed reports that the model in question was a GoPro Hero3+, which weighs just 4.8 ounces and couldn't hinder the bird's ability to safely fly. Unfortunately for the bird's owners, Pumas UNAM won the game handily 1-0.
This isn't the only eagle-related GoPro video making the rounds on the Internet. Late last month, YouTuber Mason Colby recorded an eagle stealing his camera under the impression it was some kind of prey. Club America's video shows us the soaring heights an eagle can reach. This one shows how terrifying it could be: