Leonardo DiCaprio's Latest Move Reminds Us Why We Love Him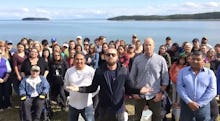 Youtube
Leonardo DiCaprio is more than an award-winning actor. He's also one of Hollywood's biggest philanthropists. 
Earlier this summer, the Wolf of Wall Street star made an astonishing $7 million contribution to ocean conservation, among the most generous celebrity gifts of all time. His charitable giving hasn't ended there. In late August, he recorded an Ice Bucket Challenge video along with leaders of the Athabasca Chipewyan First Nations in Fort Chipewyan, near Alberta, Canada.
DiCaprio's accompanying gift to fight ALS was generous, even by celebrity standards. According to recent statements by the ALS Association, DiCaprio's contribution is tied for largest. Along with comedian David Spade, T-Mobile U.S. CEO John Legere and Carnival Cruise Lines chairman Micky Arison, DiCaprio donated $100,000 in one go.
"People have responded with such generosity it is truly remarkable and we couldn't be more appreciative," ALS Association president Barbara Newhouse said in a statement. "These donations will truly help fuel our fight against ALS in ways that were never before possible."
Spade told TMZ that his uncle died of ALS and his donation was intended to help "not see someone go through what I saw." ALS is an invariably terminal neurodegenerative disease with just a 20% five-year survival rate and no known treatment or cure. It's often described as the "glass coffin" because it atrophies the body's muscles and leaves its victims mostly unable to move or communicate on their own. A rare and poorly understood condition, ALS will require intensive research to defeat.
DiCaprio has additionally given $3 million to conservation group Oceana, and his foundation has contributed $1 million to save elephants and an additional $3 million to the World Wildlife Fund. With an estimated net worth of $220 million, these donations might just be a sliver of DiCaprio's immense wealth but they go a long way toward fighting environmental destruction — and now ALS. 
According to the association, the Ice Bucket Challenge has raised an astonishing $100 million, thanks partially to frequent celebrity endorsements. While it now appears to have peaked, it's nice to the see the generosity of so many people.