This Lovely Family Ran Into an Unexpected Visitor at Stonehenge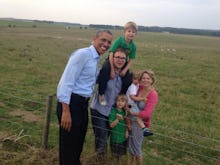 Twitter/@BeesRun
An adorable family in England ran into a particularly famous tourist at Stonehenge today: the president of the United States.
President Obama decided to make a stop at the world-famous monument on his way home from a NATO summit in Wales, and was given a tour by the site's curator. "How cool is this! Knocked it off the bucket [list]!" the president said, according to a White House pool report.
Meanwhile, a local family stopped by, hoping to catch a glimpse of the president. They got their wish and much more — Obama came over to chat and take photos with the kids.
Their mother livetweeted the whole encounter after apparently hearing that Obama was nearby:
Stonehenge attracts about one million tourists a year, but we have a feeling this family didn't mind this one.