An NFL Team's Commitment to the Sick Child of One Player Deserves a Standing Ovation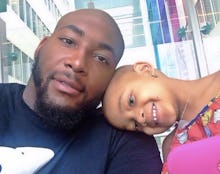 Instagram
The news: This week, the Cincinnati Bengals re-signed defensive tackle Devon Still to their practice squad, despite cutting them from their regular lineup last Saturday. The decision had nothing to do with football and everything to do with Still's 4-year-old daughter Leah. 
On June 2, Leah Still was diagnosed with stage 4 pediatric cancer. Still missed a chunk of team activities and minicamp sessions to be with her and the rest of the family; when the team cut him, Still said he understood because he "can't give football 100% right now."
But this week, he learned that he'd been re-signed to the practice squad, reinstating his health insurance and giving him a weekly salary that will go toward Leah's cancer treatments. It also means he can spend less time away from his family. 
"They could have washed their hands with me and said they didn't care about what I was going through off the field," Still told ABC News. "It's like a blessing in disguise for me."
Some good news in a sea of bad: The NFL has come under fire recently for its attitude toward domestic violence. In July, Baltimore Ravens running back Ray Rice was suspended just two games for an incident that left his now-wife unconscious. The paltry punishment was heavily criticized; on Aug. 28, league commissioner Roger Goodell announced a new, harsher policy for domestic abuse. 
Devon Still's situation, on the other hand, is a positive development and shows that not all NFL teams are out of touch. Though the two situations have obvious (and important) differences, the Bengals, at least, are trying to do some good.