Prominent Muslim Lawyer Sues NYPD for Alleged Police Brutality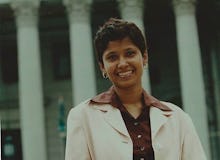 Twitter
A Muslim lawyer arrested in New York City just filed a lawsuit with allegations that, if true, paint a startling picture of police overreach and disregard.
Chaumtoli Huq, a former top lawyer for New York City Public Advocate Letitia James, says that she was arrested in Times Square after leaving a pro-Palestinian rally in July, according to the New York Daily News. What happened, according to Huq's lawsuit, was "unreasonable and wholly unprovoked force" on the part of the police.
The lawsuit: Huq says she was outside a Ruby Tuesday restaurant waiting for her husband and two kids to leave the bathroom when a police officer asked her to leave. When she said she was waiting for her family, according to the suit, "without any legal basis, grabbed Ms. Huq, turned her and pushed her against the wall and placed her under arrest."
That's not all. Huq says an officer said "shut your mouth" when she told them she was in pain and was also told, "In America, wives take the names of their husbands" when it was revealed that she had kept her own last name after getting married. She was held for nine hours on charges that she had refused to move and "flailed her arms and twisted her body" to avoid being handcuffed, the suit says.
Huq, who was wearing a traditional South Asian tunic at the time of the arrest, believes she was targeted because she is a Muslim woman. "My civil rights were violated. I think that I was treated differently because of being a woman," she told DNAinfo. "I think I was targeted once my husband left. I think that I was being targeted based on my religion and my race."
The aftermath: In addition to the lawsuit, Huq filed a complaint with the NYPD Civilian Complaint Review Board, according to DNAinfo. A federal lawsuit against the NYPD for targeting Muslims may be next.
The officer in question, Ryan Lathrop, is also the subject of an internal NYPD investigation for allegedly throwing a 25-year-old Naquan Miles to the ground after confiscating his phone, according to NY1. Miles had been recording Lathrop.
The city told the New York Daily News that Huq's lawsuit will be reviewed.
"I went from being a mother to a prisoner and so I can't imagine mothers who experience their children or their boys having such an experience with police officers," she told DNAinfo. "That shouldn't be the case in New York."
Correction: Sept. 6, 2014
An earlier version of this article was published with the headline "The NYPD's Physical Arrest of a Muslim Lawyer Is the Height of Police Brutality." The nature and validity of the arrest are still being disputed in a court of law, which the current headline more accurately reflects.