The 'How I Met Your Mother' Alternate Ending Has Leaked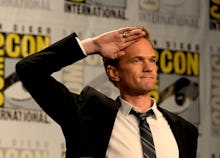 Are you still seething about the How I Met Your Mother series finale? If so, get over it — I mean, it's been five months now. But if that's not possible, here's something that might cheer you up.
The show's producers promised an alternate ending for the final season's DVD release. And that ending appears to have leaked (although CBS has not yet confirmed its authenticity). If you want to see what could have been, take a look:
The differences: In the original ending, the titular Mother dies of an illness after barely any screen time as Robin and Barney, whose romance had made up much of the last season, apparently got divorced. The final twist was that main character Ted was telling this long story in order to ask for his kids' permission to date Robin.
The reviews were not kind, and lots of viewers — some of whom had been following along with in-show clues and coming up with theories about the Mother — were angry about her character dying off in a matter of minutes.
The alternate ending seems to do away with that entire twist, with Ted recapping the previous nine seasons and the show closing with him meeting the Mother under an umbrella. As Hollywood Take notes, it bears some resemblance to a fan-made alternate ending that was posted after the finale.
That's it: Fans of the show were originally going to get a spinoff in How I Met Your Dad, which was slated to star Greta Gerwig. But CBS ended up passing on the new sitcom despite the publicity its announcement created.
"I'm heartsick; we loved this brand and we love the producers but it didn't work out," Nina Tassler, chairman of CBS Entertainment, told reporters per the Mary Sue. "There were elements on the pilot that didn't work out."
So if you're a HIMYM fan, it looks like the new ending (along with whatever other surprises producers have in store for the DVD) is all you're going to get.
h/t Hollywood Take