George R.R. Martin Has A New Book Coming Out in October, But Fans Aren't Happy About It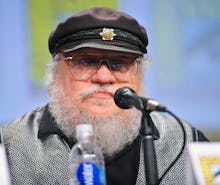 George R. R. Martin has a new book coming out in October. Fans of the Ice and Fire series will have to keep glancing at their watches and passive aggressively clearing their throats, though, because it's not the book they're expecting.
The new book, The World of Ice and Fire, is an illustrated history of Martin's universe ranging up until the start of the first book in the series. Martin co-wrote the book with Elio García and Linda Antonsson, webmasters of Westeros.org, who have helped the author fact check his books and ensure continuity.
"[He would ask], What have I established about this and that?" García told Vulture. "Or, Check to see if I mentioned something about this king or this date. And things do slip by because it's so massive."
The wait continues: Martin is legendary for the long waits in between his novels. The first book in the series, A Game of Thrones, came out way back in 1996. The next two were just two years apart each, but it was a five-year wait for A Feast for Crows and a six-year wait for A Dance with Dragons. 
Making things more complicated is the popular HBO show, which viewers and readers alike worry might catch up to the book series. "It's alarming," Martin told Vanity Fair of the rate at which the TV series was progressing.
There is a backup plan. Martin has met with the show's creators to discuss general outlines of how the series ends. That being said, having the book series get spoiled by television is not exactly something fans would look forward to.
Fan frustration: Martin's high profile has pissed off some of those fans, who complain that he should be finishing the series rather than appearing on talk shows and making public appearances. A few speculate openly that his age and health could mean the series' conclusion is never written.
Martin spoke out in response a few months ago with a hearty "fuck you" to the doubters. "I find that question pretty offensive, people speculating about my death and my health," he told Swiss newspaper Tages-Anzeiger.
For fans who can be more reasonable about the whole thing, at least there's a sweet coffee table book in their near future.
h/t Mashable