A Louisiana Cop's Insanely Racists Texts Capture a Serious Problem With America's Police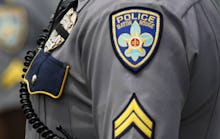 This is what racism in the 21st century looks like: "I wish someone would pull a Ferguson on them and take them out. I hate looking at those African monkeys at work ... I enjoy arresting those thugs with their saggy pants."
That is just one text message obtained by the Baton Rouge Police Department in Louisiana that was sent by 15-year veteran police officer Michael Elsbury. After a slew of racist text messages emerged late last week, Elsbury resigned on Thursday. 
As a criminal investigation is launched, Elsbury's actions as a protector and defender of the largely African American community of the Fourth District near Southern University will certainly come under intense scrutiny. But the worst part is that this happens far too often. After the shooting death of Michael Brown in Ferguson, Mo., a Kansas City police officer posted racially-charged messages on his Facebook page, and a St. Louis County cop was suspended after a racist, sexist rant went viral while he was on duty during the civil unrest in Ferguson.
The text messages: An unidentified female friend of Elsbury's brought the messages to the attention of the NAACP and the Baton Rouge Police Department. They are all laden with intense hatred and racial slurs. Another read, "They are nothing but a bunch of monkeys!!!! The only reason they have this job is because of the n***** in them."
NAACP state President Ernest Johnson said he was shown several messages on Wednesday that were allegedly from Elsbury and sent to a friend not on the police force, reports the Advocate. Soon after, police chief Carl Dabadie said that detectives quickly went through the phone and its contents to authenticate that Elsbury was the person responsible. 
After reading them Dabadie told the Advocate, "It was gut-wrenching to believe that someone had that much hate in them, especially a police officer who is out there enforcing the law every day. It made me sick to my stomach."
On Wednesday evening, Elsbury was placed on administrative leave and by Thursday afternoon, Elsbury resigned. Dabadie affirmed that while the precinct is not 100% positive about the authenticity of the messages just yet, Elsbury's resignation is symbolic. 
However, the police chief assured the public that one bad seed does not make all of the produce rotten. "I believe this is an isolated incident that occurred between the officer and this girl. I do not want this to become a direct reflection on our officers. I have 650 officers, and 649 of them work their butts off every day for the city of Baton Rouge," Dabadie said. 
The takeaway: This severe parade of racism is nothing short of an abomination. A Baton Rouge cop who worked in a predominantly black community was filled with prejudice and abhorrence for the people he was supposed to shield and serve. Elsbury maintained this for 15 years, which is 15 years too long. 
h/t The Advocate