Researchers Say They Have Finally Uncovered the Identity of Jack the Ripper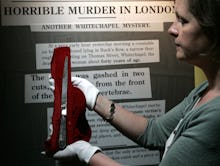 AP
The news: The alleged identity of Jack the Ripper, the infamous murderer of at least five women in the late 1800s, has been revealed. His name was Aaron Kosminski. A Polish immigrant, Kosminki was initially one of the suspects during the string of murders in London's East End. 
Using DNA analysis of a scarf found with one of the Ripper's victims, Dr. Jari Louhelainen, an expert in historical crime scene genetic evidence, is certain that the 126-year-old mystery is now a closed cased. 
The discovery: In 2007, businessman Russell Edwards bought a shawl at an auction thinking that it was associated to the Ripper case. It has survived without ever being washed and maintained genetic material. Once Edwards handed the scarf to Louhelainen, the case began to unravel. 
Louhelainen found that there was genetic material that matched with Eddowes, which was tested against her "three-times great-granddaughter Karen Miller," Russell explained in a letter for the Daily Mail.
Additionally, there was semen on the scarf that was tested against a descendent from Kosminksi. "The first strand of DNA showed a 99.2% match, as the analysis instrument could not determine the sequence of the missing 0.8% fragment of DNA. On testing the second strand, we achieved a perfect  100% match," Louhelainen wrote. 
The murders: In 1888, Jack the Ripper began a vicious attack on female prostitutes in an area called Whitechapel. During August and November of that year, he killed Mary Ann Nichols, Annie Chapman, Elizabeth Stride, Catherine Eddowes and Mary Jane Kelly, reports Metro UK. Continuing on through 1891, the deaths of Rose Mylett, Alice McKenzie, the 'Pinchin Street torso' and Frances Coles were also attached to the Ripper, though those deaths were never certifiably linked to him. 
Russell says, "Kosminski was not a member of the Royal Family, or an eminent  surgeon or politician. Serial killers rarely are. Instead, he was a pathetic creature, a lunatic who achieved sexual satisfaction from slashing women to death in the most brutal manner. He died in Leavesden Asylum from gangrene at the age of 53, weighing just [98 pounds]."
The DNA evidence has yet to be verified outside of Louhelainen's assessment. But the genetic testing done aligns with police notions that Kosminski was culpable for the murders. Jack the Ripper is dead, but the mystery of who he was has now died as well. 
h/t Metro UK