Another NBA Owner Has Given Up His Team Over Racist Comments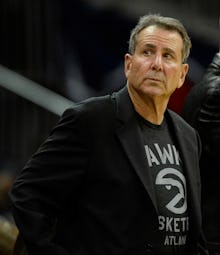 AP
The news: Atlanta Hawks owner Bruce Levenson ceded control of his NBA team on Sunday after self-reporting racially offensive remarks he made in a 2012 email to team officials.
In the now-public emails, Levenson made stereotypical observations about race relations and black people, including remarks about black fans' perceived affinity for hip-hop and positing that white fans are afraid of blacks. He also discussed plans to increase the Hawks' suburban fanbase in starkly racial terms, saying that increasing season ticket sales would require substituting much of the team's black fanbase with white people. Finally, Levenson repeatedly emphasizes his belief that problems with attendance and ticket sales are largely because attendance at Hawks games is "too black."
The emails: While he insists that doesn't buy into "racist garbage" about the arena's heavily black audience, Levenson nonetheless proscribes strategies for increasing the number of white attendees based mostly on stereotypes and favorably cites D.C.'s "15 pct black" crowds.  Here's a few highlights from the emails, which can be read in full over at CBS Sports:
... when digging into why our season ticket base is so small, I was told it is because we can't get 35-55 white males and corporations to buy season tixs and they are the primary demo for season tickets around the league. When I pushed further, folks generally shrugged their shoulders. Then I start looking around our arena during games and notice the following: 
-- it's 70 pct black 
-- the cheerleaders are black
-- the music is hip hop 
-- at the bars it's 90 pct black 
-- there are few fathers and sons at the game 
-- we are doing after game concerts to attract more fans and the concerts are either hip hop or gospel. Then I start looking around at other arenas. It is completely different. Even DC with its affluent black community never has more than 15 pct black audience. 
... My theory is that the black crowd scared away the whites and there are simply not enough affluent black fans to build a signficant season ticket base. 
... I have told them I want some white cheerleaders and while I don't care what the color of the artist is, I want the music to be music familiar to a 40 year old white guy if that's our season tixs demo. I have also balked when every fan picked out of crowd to shoot shots in some time out contest is black. I have even bitched that the kiss cam is too black.
The backlash: This is the second time this year that a white NBA team owner has been forced to sell his team after being caught saying something racist. Since Levenson's ordeal was self-reported, it is likely to be less acrimonious than the controversy around outrageously offensive statements made by former L.A. Clippers owner Donald Sterling. But he is still coming under a withering amount of criticism.
The NBA released on a statement on Twitter, with commissioner Adam Silver characterizing the remarks as "entirely unacceptable and ... in stark contrast to the core principles of the National Basketball Association."
Atlanta Hawks' CEO Steve Koonin added that the remarks were "alarming, offensive and most of all, completely unacceptable," and said that a new management team would be inbound shortly.
There was also a statement from Levenson himself, in which he apologized for sending the "message that our white fans are more valuable than our black fans":
If you're angry about what I wrote, you should be. I'm angry at myself, too. It was inflammatory nonsense. We all may have subtle biases and preconceptions when it comes to race, but my role as a leader is to challenge them, not to validate or accommodate those who might hold them.
On Twitter, fans and media critics mocked Levenson:
They also mocked the Hawks themselves for their less than impressive record:
As USA Today notes, Levenson was one of the NBA's most vociferous critics of Sterling, making this whole mess a little more embarrassing. Levenson himself cited his previous insistence that the league have a zero-tolerance policy for racism while giving up the Hawks, adding that he regretted making the above comments and saying his decade of Hawks ownership was one of the "highlights of my life."