Here's What the United States of Football Looks Like According to Facebook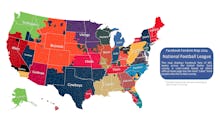 It's no real surprise that football is America's favorite sport (despite baseball being "America's pastime), but which are America's favorite teams? Thanks to newly released Facebook data, the picture's becoming a bit more clear.
Right in time for the first week of the 2014 NFL season, Facebook created this map based on which teams have the highest number of Facebook "likes" by county. Take a look (or click here for a larger version).
Image Credit: Facebook
There aren't a ton of surprises in the map, but that doesn't mean it's not an interesting look at football in America, and when compared to last year's map, there are some notable takeaways.  
Most regions stay loyal to their local teams, although the Cowboys do pick up some fans in Nevada and Virgina (not totally shocking, as they are often known as "America's Team"). 
States like Kentucky, Florida, Iowa and South Carolina have the most colorful maps, with a variety of teams claiming fans around the various counties.
The Denver Broncos also have an impressively large fan-base, taking up most of the western prairie states.
Additionally, the Jets, which held onto Nassau County last year, are now the only team without a plurality of fans in any U.S. county.