11 Extreme Instagrammers Taking Pictures From the World's Most Unbelievable Places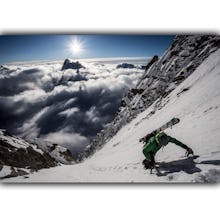 Instagram is the place to post the most saturated, picturesque version of your life. In the case of the daring photographers below, their Instagrams surpass the most over-the-top autobiography and enter wildest dreams territory.
Posing atop the world's tallest buildings, scaling mountains or braving boiling hot waters, this is the new generation of daredevil photographers, willing to risk it all for the most awe-inspiring of photos.
Follow their extreme feeds (selfies included) to live vicariously through this fearless crew.
1. @christianpondella
Christian Pondella doesn't just photograph extreme sports, he participates in them as well. As the head photographer for Red Bull USA, he brings a more intimate view of adventure sports like skiing, climbing, BMX and surfing. The biography on his website sums up his approach: "As an avid participant in the sports he photographs, he tries to capture an image through the athlete's perspective, instead of the spectator's view."
2. @roof_topper
As his user name suggests, Tom Ryaboi is leading the "rooftopping" trend, where photographers scale the world's steepest and must beautiful buildings to offer a bird's-eye view of the world below. A lot of the rooftops Ryaboi photographs from appear to be in Asia, but his love of photography correlates to a love of travel. "Taking pictures has become closely associated to that blissful place in my mind reserved for travelling," he writes. Travelling the world's tallest buildings, it seems.
3. @mikeescamilla
Photographer Mike "Rooftop" Escamilla likes to add a sense of humor to his daredevil photos, from over-the-top skydiving shots to "x-treme fill-ups." Self-described on Twitter as a "pro BMXer, stuntman, skydiver, adventurest, " from the looks of his photo feed, he's dominating them all.
4. @cj_kale
CJ Kale, along with his photography partner Nick Selway, snapped this picture in Hawaii more than a year ago, and the two "daredevil" photographers have been perfecting their craft ever since. Lots of volcanoes, lots of extreme waves, lot of gorgeous and hard-to-capture nature shots. 
5. @xplore__
Another rooftopping pro, this Melbourne-based photographer's feed is a mix of sky-high snaps and adolescent hijinks, which seems to be why he's kept his identity and face hidden in his photos.
6. @joemcnallyphoto
There's a reason National Geographic photographer Joe McNally is as celebrated as he is. His gorgeous Instagrams cover a wide assortment of subjects, but his one rooftopping photo is stomach-drop-inducing enough to land him a spot on this list. Perched atop the world's tallest building, the Burj Khalifa in Dubai, McNally snapped away. "My old battered shoes climbed the world's tallest building today," he wrote in the caption. 
7. @mustangwanted
This Ukrainian photographer's Instagram name is indicative of the lawless stunts he captures. Scroll through his feed for well-traveled photos from one of IG's most wanted and fearless users. He acknowledges the dangerous element of his photos on his site: "Even if you're totally sure that you can do that, you are putting yourself in danger. So please, don't try to recreate my stunts. I mean it!"
8. @knxposures
Pilot, photographer and rooftopper, many of Karim Nafatni's stunning aerial views are taken from the cockpit (presumably when his cocaptain is manning the controls). For all the aviation lovers out there, Nafatni posts quite a few gorgeous plane shots as well.
9. @lastsuspect
If every person in New York City with a rooftop also had a penchant for danger and an eye for photography, this would be their Instagram account. These rooftop shots don't include tricks or gimmicks; they're just a casual seat at the very edge.
10. @tobyharriman
The wonder of Toby Harriman's vertigo-inducing shots are matched only by his stunning photos of lazy clouds engulfing the Golden Gate Bridge. He calls himself a "photographer and adventure seeker," and his unique eye creates conversations of gorgeous images every time.
11. @shainblumphotography
Michael Shainblum is best known for his time-lapse photography, but he's also at his best scaling the most extreme locales (and capturing dinosaurs in the desert). If his feet dangling into the beyond don't send a little shiver of excitement down your adventure-seeking spine, than we don't know what will.