The Fall Television Season Is A Major Moment in the Transgender Movement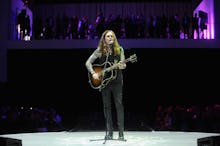 When TIME passed over Laverne Cox in April for their 2014 list of the 100 most influential people in the world despite overwhelming reader support, transgender advocates criticized the magazine for the obvious oversight. 
"Laverne Cox's absence on the list ... reflects the manifold barriers that transgender individuals face in being accepted in the mainstream," the Daily Dot's Kat Haché wrote. 
But the June issue proved that TIME's editors had registered the criticism: Cox graced the cover of the magazine beneath the headline "The Transgender Tipping Point." This upcoming fall television season, the transgender tipping point is coming to the small screen in a big way — and its importance will be immeasurable. 
While we wait for a third season of Orange is the New Black on Netflix, Amazon will release the first season of the show Transparent, starring Jeffrey Tambor as a transgender mother, while AOL will release a  documentary series called True Trans, featuring Laura Jane Grace, frontwoman for the punk rock band Against Me! CNN also recently aired a documentary about Kristin Beck, a former Navy SEAL who came out as transgender last year. 
TIME was right. The transgender rights movement is currently "poised to challenge deeply held cultural beliefs," and television is positioning itself at the vanguard of that movement.
The state of transgender representation on television was once almost completely deplorable. In 2012, GLAAD reviewed 10 years of transgender representation on scripted television and found that only 12% of transgender characters could be considered "groundbreaking, fair and accurate." Anti-trans slurs could be heard in over 60% of episodes with transgender characters and transgender characters were cast as victims over 40% of the time. More troubling still, over 20% of transgender characters were cast as "killers or villains." 
Offensive representations of transgender people were widespread across all genres of television. FXX comedy It's Always Sunny in Philadelphia, for example, featured a female transgender character who is commonly referred to with the use of slur rather than her name, while crime dramas like CSI: Crime Scene Investigation on CBS routinely have disrespected the victims of anti-transgender violence.
If recent seasons of television are any indication, however, the tides of transgender representation are finally beginning to turn, even though problems persist on traditional television networks.  
Cox has turned her star-making role on Orange is the New Black into a national media campaign for transgender rights. Not only is she the first out transgender actress to have been nominated for an Emmy, she also travels the world speaking about transgender rights at venues ranging from college campuses to large-scale LGBT conferences like Creating Change to Late Night with Seth Meyers. As an African-American woman, too, Cox is an important public face for an LGBT movement that has too often elided the experiences of transgender women of color.
Amazon is ready to follow up on the massive success of rival Neflix's Orange is the New Black with its new comedy series Transparent, which details the experiences of a transgender woman named Maura as she comes out to her adult children late in life. Although the show features a cisgender actor (Jeffrey Tambor) in the role of a transgender woman, the pilot is still a remarkably sensitive portrayal of a closeted transgender woman who is struggling to keep her secret from her family. The trailer for the first season features a particularly poignant moment in which Maura corrects her daughter's misconception that she has simply been "dressing up" like a woman. 
"No, honey," Maura says, "all my life, I've been dressing up like a man." If this trailer is any indication, Transparent will set a new bar for the level of care that should be required of shows that feature transgender characters.
While Orange is the New Black and Transparent will continue to highlight fictional transgender characters on scripted television, AOL's True Trans will bring real transgender lives to Web television in documentary form. The trailer shows Laura Jane Grace traveling the country meeting an array of transgender people, exploring their beauty and strength in the face of gender dysphoria. Rather than sensationalizing transgender lives, True Trans seems to approach transgender people as people first and foremost.  
"You can classify someone as trans, genderqueer, whatever you want," Grace says, "but when it comes down to it, they're just people."
These shows mark an important symbolic shift in transgender representation in the media. On television, transgender people will finally be heroes instead of victims. Instead of continuing to pathologize transgender people as dangerous serial killers, television shows are starting to produce sensitive and accurate portrayals of transgender people who navigate everyday life. And instead of treating transgender people like jokes, brave comedies like Transparent are finally allowing transgender characters to star in comedies that find humor in transition without dehumanizing those who go through it.
The impact of this new era of transgender television is huge. Shows like Transparent and True Trans educate cisgender people about transgender issues while also sending transgender people the clear message that mainstream cultural acceptance is coming. A 2012 poll from The Hollywood Reporter and Penn Schoen Berland found that television shows like Modern Family played a critical role in reducing opposition to gay marriage. If this pattern holds, sensitive portrayals of transgender people on television should promote support for transgender equality among cisgender viewers. 
Ultimately, transgender viewers will one day be able to watch television without feeling dehumanized and ridiculed. 
"To see a person on television ... go through our same trials and then come out with even small victories on the other side provides hope that we might, too," Vogue's Arin Andrews wrote.
The transgender tipping point is here and television is finally taking notice.