These are the 10 Billionaires Who Influence Politics in America the Most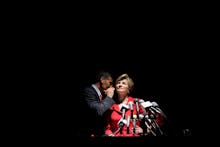 When Travie McCoy and Bruno Mars sang about how much they wanted to be billionaires, mostly they were interested in living the good life for themselves. Actual billionaires in the United States have found avenues for their money that accomplish much more. Given the vast amount of wealth they control and their outsized role in the American political process, the extremely rich have access to corridors of power in America the rest of us can only dream of.
The Brookings Institution's Darrell West devised a ranking to sort out which of these larger-than-life figures are the most politically powerful, factoring in "campaign expenditures, activism through nonprofit organizations and foundations, holding public office, media ownership, policy thought leadership and behind-the-scenes influence." Ranging from media moguls to high-profile philanthropists to serving Cabinet members, here are the real top 10 influencers on American political thought and action today.
The Koch Brothers
According to West, the Kochs are the most powerful billionaires in the country, and therefore might be the most politically influential non-politicians in America. Libertarians Charles and David Koch run one of the world's largest trading, energy and chemical firms, Koch Industries, and are estimated to be worth more than $100 billion. They actively fund pro-business, conservative candidates for virtually every political office imaginable. 
West estimates the Kochs will spend around $290 million of that money by the time Election Day 2014 rolls around, and that's for a year without a presidential race. While their direct donations are staggering, the duo's real political power lies in a complicated network of nonprofits and limited-liability companies used to bundle and shuttle their and like-minded rich folks' money across the country.
Michael Bloomberg
Including electoral expenses, former New York City Mayor Michael Bloomberg spent an astonishing $650 million of his own money during his three terms helming America's largest city. The beneficiaries of his buying spree include a dizzying array of causes, from audio guides and Wi-Fi at the Metropolitan Museum of Art to a gigantic set of fish tanks in the lobby of city hall. Today he's worth an estimated $33 billion. 
Right now, Bloomberg wants gun control, and he wants it badly enough to spend around $50 million of his own money on various campaigns, including Mayors Against Illegal Guns, Everytown for Gun Safety and his Independence USA PAC, which funnels big money into small-city sheriff's races.
Tom Steyer
Tom Steyer is worth just $1.7 billion, a fortune much smaller than others on this list. But he'll be spending about $100 million of it on environmental causes this election season through his NextGen Climate PAC, which bills itself as working to prevent "climate disaster and preserve American prosperity." Steyer's money will hit seven campaigns; he also raised just over a million dollars as a bundler for Obama in 2012.
Sheldon Adelson
Right-wing casino mogul Sheldon Adelson has around $38 billion, and spent around $93 million of it in 2012 trying to dethrone President Obama. According to the Daily Beast, he also seems ready to spend an additional $100 million on this year's Senate races to help thwart vulnerable Democrats. Adelson is so powerful that important that New Jersey Gov. Chris Christie personally apologized to him in private for making remarks on Israel that offended the billionaire.
George Soros
At $24 billion, liberal magnate George Soros spent $1 million on Obama in 2012 and pledged $25.5 million to defeat George W. Bush in the 2004 presidential election. Though a favorite right-wing bogeyman, Soros' contributions have notably trailed off in recent years, but in 2009 he pledged $35 million to assist low-income children in New York and another cool million in 2010 to promote marijuana legalization. In addition, Soros is a Hillary Clinton booster and a key member of Ready for Hillary, a super PAC organizing for her anticipated presidential campaign in 2016.
Rupert Murdoch
The man who brought us Fox News is, unsurprisingly, ready to turn out his pockets for a variety of conservative causes. Between 1990 and 2011, Murdoch (whose net worth was valued at $12.5 billion in 2013) funded federal candidates and political committees to the tune of at least $750,000. About 80% of that, more than $600,000, went to Republicans, though he also donated about $6,500 to Hillary Clinton during her time as a U.S. Senator. 
In 2010, News Corp. handed $1 million to the Republican Governors Association, leading Democrats to demand that his media networks air disclaimers on their political bias. But most of Murdoch's political influence lies with his media empire, which in 2013 split into the entertainment division 21st Century Fox and a successor News Corp., which collectively owns major media outlets ranging from the Wall Street Journal to the New York Post. 
Bill and Melinda Gates
The Gateses have a net worth of $76 billion, making them the richest people in the world. The Gateses have already donated $28 billion to their foundation, whose global development division supports access to resources and services in underdeveloped countries, while locally the foundation has built libraries and funded education initiatives across the U.S. Before it buckled to outside pressure, the foundation had donated some $71 million to Planned Parenthood. 
The Gates aren't big political spenders, but in 2012 they donated $71,800 to Democrats, $5,000 to Republican Sen. Lindsey Graham and another $5,000 to the Microsoft PAC. In Washington state, they donated $600,000 to support gay marriage.
John and Laura Arnold
Former hedge fund advisor John Arnold and his wife Laura are passionate about pension reform — specifically about cutting pension benefits and moving more costs onto public sector employees. He's donated to Democrats and Republicans, but the John and Laura Arnold Foundation has primarily focused on getting states to reform their pension programs, and they've made inroads in states like Illinois, New Jersey, Utah and Rhode Island.
"Public employees are not getting rich," Arnold told the Sacramento Bee. "But we live in a world of scarce resources. If you allow people to retire at age 50, there is a cost to that ... The ramifications are terrible. Social programs get cut, libraries get closed, fire departments close stations. Violent crime goes up. All this happens in an attempt to meet the obligations of a broken system. The losers end up being taxpayers."
As a bundler, Arnold raised about $115,000 for Obama in 2008.
Penny Pritzker
Pritzker is worth about $2.4 billion, but her political power isn't limited to her funding. As the current U.S. secretary of commerce, Pritzker advises President Obama on making decisions that affect business, labor and the economy. She ran Obama's finance operations in 2008 and raised more than half a million as a bundler in 2012, making her a powerful component of Obama's fundraising system. Additionally, Pritzker donated to more than 70 Senate candidates between 1990 and 2013, including 9 out of 13 of the majority members of the committee responsible for reviewing her nomination to the cabinet.
Warren Buffett
Buffett is one of the wealthiest Obama boosters, and was instrumental in proposing and advocating for the "Buffett Rule," which would have implemented a minimum tax rate of 30% for all taxpayers making $1 million or more a year. Though defeated in Congress, the Buffett Rule played a key political role as a talking point from its invention in 2011 through the 2012 presidential elections. Buffet, worth $67.7 billion, is also a key Obama fundraiser, though his actual contributions are quite modest in comparison to others. In 2010, he pledged to give 99% of his money to charity, primarily through the Bill and Melinda Gates Foundation.