7 Reasons Serena Williams Is the Greatest Player of All Time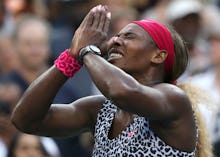 The backhand sailed past the baseline and Serena Williams collapsed to the court. She'd just swept away Caroline Wozniacki to capture her sixth U.S. Open championship and 18th career major singles title, pulling level with Chris Evert and Martina Navratilova on the all-time Grand Slam leaderboard.
At the end of one of her most difficult seasons, the 32-year-old's emotions spilled over. She'd failed to reach the quarterfinals at the Australian Open (fourth round), French Open (second round) and Wimbledon (third round), and, for the first time since 2001, was in jeopardy of going without a Grand Slam title in a season where she entered all four majors.
But after Sunday's clinical 6-3, 6-3 beatdown at Arthur Ashe Stadium — a God-level performance that lasted a scant 75 minutes — the conversation has turned to Williams' place in history.
"I never dreamed that I could be compared to Chris Evert and Martina Navratilova," said Williams, who improved to 18-4 in Grand Slam finals and earned a $4 million payout to surpass $60 million in career earnings. "I was just a kid with a dream and a racket living in Compton."
Now that she's four major titles behind Steffi Graf's 22 for the Open-era record, the junior Williams sister has officially entered the conversation for Greatest of All Time. Here are seven reasons why the argument for Serena as G.O.A.T. may already be case closed.
1. She's got the greatest weapon in women's tennis history.
Everything in tennis starts with the serve. Williams' fastest offering in Sunday's final was 120 m.p.h., faster than the tournament bests of dozens of men's players, including David Ferrer (119 m.p.h.), Lleyton Hewitt (117 m.p.h.) and Mikhail Youzhny (117 m.p.h.). And that was no outlier: Serena's average first-serve speed (108 m.p.h.) compares favorably with many of the top men. She blasted her way to the title with a tournament-high 35 aces — including seven against Wozniacki — and won 79% of her first-serve points over the fortnight. Williams' devastating serve, famously modeled after Pete Sampras, represents a harmonic blend of mechanics, leg strength, accuracy and confidence. Said Wozniacki: "She works hard every day, just like us, but when she needs to she can pull out that big serve. She has the power. She can push us back on the court and take the initiative."
Image Credit: Getty
2. When she's on, she's nearly unbeatable.
The women's tour is as competitive as it's been in years. For the first time since 1977, there were eight different finalists at the four Grand Slam tournaments. Yet not only did Serena steamroll to the championship without dropping a set — matching her unblemished runs at Wimbledon in 2002 and '10 and the U.S. Open in 2002 and '08 — but she did it without letting a single opponent win more than three games in a set.
"I definitely think when Serena is on her game, there's not much we can do," Wozniacki lamented.
3. Her longevity is otherworldly — and she may be getting better still.
Serena has won Slams in her teens (one), twenties (12) and thirties (five, a record). On Sunday, an electric crowd of 22,712 watched Williams win a sixth U.S. Open title in the same venue where she captured her first major as a 17-year-old back in 1999 — a 15-year span that's also a record. "She definitely has the experience now, as well," Wozniacki said. "I think that makes it even harder, because maybe back in the day she might have made not the right choices. Now she knows what she needs to do out there, and it makes it even harder to beat her."
4. She's the greatest frontrunner in sports.
When Serena broke Wozniacki's first three service games and wrapped up the opening set shortly after, it didn't augur well for the Dane. Williams, one of sports' great closers, soon improved to 226-5 at Grand Slams after winning the first set, including 75-1 at the U.S. Open. And that's no slight against Serena's siege mentality: a knack for conjuring her best tennis when her back is up against it. Even though she'd won eight of nine previous matches with Wozniacki, Serena had needed to rally from a set down in each of their two meetings on hardcourts this summer. "I serve pretty good, I have a pretty good return, I'm pretty fast," said Williams, who's won 18 straight matches against top-10 opponents. "If I'm doing all those things combined, it's definitely difficult to win."
Image Credit: AP
5. She's consistently dominated her rivals.
Serena has spent an incredible 204 weeks at No. 1, but she's been widely regarded as the tour's alpha dog even when she hasn't owned the top spot in the computer rankings. Consider Serena's head-to-head record against the players who have spent time at No. 1 over the past decade: Victoria Azarenka (14-3), Petra Kvitova (5-0), Wozniacki (9-1), Jelena Jankovic (10-4), Kim Clijsters (7-2), Dinara Safina (6-1), Ana Ivanovic (7-1), Amelie Mauresmo (10-2) and Lindsay Davenport (10-4). Then there's the lopsided series with Maria Sharapova, including a streak of 16 straight wins for Serena dating back to 2004.
Only Justine Henin (8-6) kept it close among Williams' top rivals, though Serena has laid down some legendary beatings when they've met.
6. She's overcome tremendous hardships off the court.
In 2011, when Williams confirmed she'd suffered a hematoma and pulmonary embolism, there was no guarantee she'd ever play tennis at an elite level again, let alone the dizzying heights on display since her triumphant return at Wimbledon in 2012. The health scare had come on the heels of a foot injury that required surgery and sidelined her for the second half of 2010. Yet she's won five major titles since those career-threatening woes, becoming the oldest player to hold the No. 1 ranking and developing a renewed appreciation for the sport.
7. She's got Graf in her crosshairs.
With 22 major titles, Graf remains the lone player ahead of Williams, though many believe the German's total is bloated due to one of the sport's most tragic episodes. Graf was on 11 Grand Slams when a Yugoslav phenom named Monica Seles emerged and captured eight of the 11 majors she entered between 1990 and '93. When Seles was stabbed by a deranged Graf fan during a 1993 tournament in Hamburg, it effectively ended Seles' career as a top player — she was sidelined for more than two years and won just one more major after returning — and opened the door for Graf's record-breaking final act. 
Evert and Navratilova surprised Williams during Sunday's trophy presentation, welcoming her to the "18 Club" with an 18-carat gold Tiffany bracelet. Yet in typical Serena fashion, she refused to dwell on the victory. "I'm already looking at No. 19," confessed Williams, who turns 33 on Sept. 26. "I don't want to become (satisfied). I want to continue to rise and continue to play really hard and do the best that I can."
Image Credit: Getty