One Man's Powerful Confessional Perfectly Captures the Reality of Living With Depression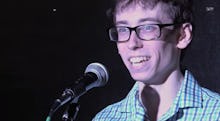 Youtube
"I'm so depressed."
It's a phrase we throw around in everyday conversation, and it could be applied to any number of situations: breaking up with a significant other, losing a job, failing a class. And even we all say it and nearly one in 10 Americans suffers from depression, there are still a lot of myths and misconceptions about the medical condition.
The video below is a clip from the Button Showcase at the 2014 National Poetry Slam, which took place in Oakland, Calif., last month. Recent Princeton grad Patrick Roche talks about his personal experience with depression and describes it in the terms of a dysfunctional relationship. It's a raw, unflinching look at not only the medical disorder, but also the person living through it.
For a lot of people, depression and sadness might seem like the same thing. But it's a lot more complicated than that, and it's very difficult to understand if you don't suffer from it yourself. As always, it's more powerful and easy to digest when someone who's going through a situation explains it in their own words — and this video does just that.