Leaked Footage Shows Ray Rice Knocking Out His Then-Fiancée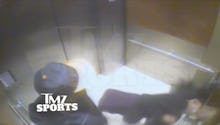 Warning: The footage below contains graphic content.
The news: TMZ has released the entire video of the violent encounter between Ray Rice and Janay Palmer, his then-fiancee, and it's absolutely deplorable. 
You can clearly see Rice punching Palmer, knocking her out cold. She remains unconscious for the remainder of the video, and Rice is seen dragging her limp body out of the elevator. (That portion of the video had previously been released by TMZ in February.)
This makes Rice's two-game suspension look much worse. The Baltimore Ravens running back received a paltry punishment for the violent attack: a two-game suspension. The decision received widespread criticism and eventually led to a change in the NFL's domestic violence policy.
This latest video should put an end to assertions that his behavior was excusable or that the punishment was "appropriate," as Adolpho Birch, the NFL's vice president of labor policy and government, put it. It wasn't "a very minor physical altercation," as Rice's attorney claimed — this was a horrific incident of domestic abuse. 
It's still unclear whether the NFL saw the video. According to a hotel employee who spoke to TMZ, the NFL allegedly saw the video before they gave Rice his unreasonably light punishment. Jane McManus, an ESPN New York reporter, echoed this: 
However, an NFL spokesperson told TMZ that wasn't the case. "That video was not made available to us and no one in our office has seen it until today," the spokesperson said. 
According to CBSSports.com reporter Jason La Canfora, although the Ravens hadn't seen the actual video, Rice had described to them in detail what happened. 
Commissioner Roger Goodall later said of the incident, "I didn't get it right. Simply put, we have to do better. And we will." 
But as the Washington Post's Cindy Boren writes, this video will only raise further questions about the NFL's actions — or lack thereof — in a case involving an appalling act of violence.