Damning Video Shows NYPD Officers Assaulting a Hispanic Young Man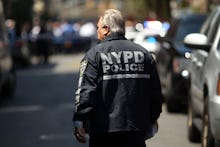 Another day, another violent police video: Coming after several instances of police violence caught on camera this summer, a video has emerged of 23-year-old Santiago Hernandez being assaulted by several NYPD officers following a stop-and-frisk search. 
ABC7 reported that the Aug. 18 event occurred at around 6 p.m. as Hernandez was outside a friends' apartment in the Bronx when an officer approached him. The video captured on a cellphone shows Hernandez willingly raising his arms and allowing the cop to frisk him.
Allegedly investigating a noise complaint, the two officers on the scene found nothing, Hernandez said. Then, when prodded by Hernandez about the reason for the search, one of the NYPD officers cuffs one of his arms and tries to pull him up. At least six officers then appear on the scene, who proceed to punch, kick, beat with nightsticks and use pepper spray on Hernandez, according to ABC7's video. "They was taking turns on me like it was a gang," Hernandez explained. 
Later, Hernandez was charged with disorderly conduct and resisting arrest, but the Bronx District Attorney is refusing to pursue the charges. After being covered in severe bruises, Hernandez and his lawyer are filing a civilian complaint. 
This is part of a larger trend: The NYPD are repeat offenders. Just in the past few months, the NYPD has racked up quite a long rap sheet. Video showed pregnant Brooklyn resident Rosan Miller being placed in a choke hold and arrested in front of her 7-year-old daughter while grilling on a sidewalk in July.
Also in July, Staten Island father of six Eric Garner was placed in a choke hold by Officer Daniel Pantaleo. Garner died while in custody, and videos show Garner repeatedly telling officers that he couldn't breathe. That same month, a video emerged of an NYPD officer reportedly stomping on Jahmil-El Cuffee's head in Brooklyn while trying to arrest him for rolling a joint. 
In August, video showed police forcefully apprehending Denise Stewart, a grandmother, while she was in a towel. She was yanked out of her apartment by 12 officers who were responding to a domestic disturbance call, reported the New York Daily News. And Stephanie Maldonado said she was left with "a fractured hand, broken teeth and facial bruises" after a run-in with the NYPD for jaywalking, according to Gothamist. 
Time for a change: The videos of Eric Garner, Rosan Miller, Denise Stewart, Stephanie Maldonado and Santiago Hernandez all showed how brutal and arbitrary the NYPD can be. And these are only the incidents reported and picked up by the media; there are surely more.
In light of the disturbing events that transpired in Ferguson, Mo., and America's growing distrust in local police forces, we must have a national conversation and make a concerted effort to implement new policies to end these issues.
h/t Gawker